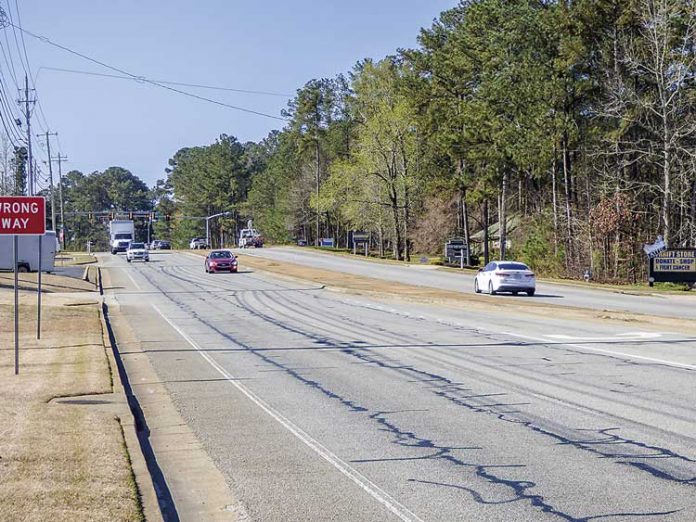 The wait to have the entire span of Ga. Highway 54 through Fayette County re-paved will soon be over. The $14 million project of the Ga. Department of Transportation (DOT) is expected to begin in April and be completed by late August.
---
Above, this stretch of Ga. Highway 54 on Peachtree City's east side will be a small part of the paving project beginning in April that will have the entire length of Hwy. 54 re-paved across Fayette County by late August. Photo/Ben Nelms.
---
The main east-west thoroughfare spanning the length of Fayette County, Hwy. 54 runs from Peachtree City on the west and extends through Fayetteville on the east.
The contract to re-pave Hwy. 54, by both asphalt overlay or full-depth reclamation in some areas, is expected to begin in April and be completed by Aug. 31, according to Fayette County Public Works Director Phil Mallon.
Contractor E.R. Snell is planning to begin the project on the east and west sides of the county with multiple crews, with the primary work to be done during the nighttime hours, according to DOT Assistant Area Construction Engineer Richard Lee.
The contract calls for crews to utilize a single, continuous lane closure on weekends to speed-up the time the public will be impacted by the paving work. The lane closures will be allowed daily from 7 p.m. until 6 a.m., Lee said.
Lane closures will be allowed on four weekends beginning at 7 p.m. on Friday and extending until 6 a.m. on Monday.
The project carries a contract amount of $14,159,974.