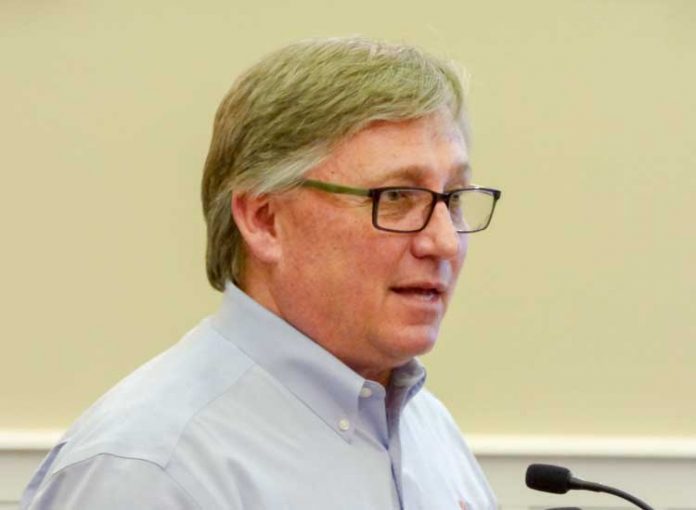 Preliminary plats for three of the 13 Village Square parcels at Pinewood Forest were unanimously approved at Feb. 27 meeting of the Fayetteville Planning and Zoning Commission. Developments planned for the parcels include retail, restaurants, apartments and the Piedmont Wellness Center.
---
Above, Rick Halbert, Pinewood Forest representative, at the Fayetteville Council meeting. Photo/Ben Nelms.
---
Pinewood Forest representative Rick Halbert noted the 13 parcels that will be included in the mixed-use Village Square area near Veterans Parkway. As proposed, commissioners approved the preliminary plats for parcels 1, 2 and 5.
Parcels 1 and 2 total approximately seven acres and will be the site of 4-story buildings that will house street-level retail, restaurants and 300 upper-level apartments.
Groundbreaking for the first phase of the Village Square development is expected later this month.
Halbert noted that the two large commercial and residential building, situated on parcels 1 and 2, will likely include parking decks in the interior area of the buildings.
"The goal is to keep cars off the street," said Halbert.
Announced in November, the Piedmont Wellness Center will be situated on the 3.6-acre Parcel 5, adjacent to Veterans Parkway and near the second roundabout under construction at the parkway and Sandy Creek Road.
Plans in November called for a 60,000 sq. ft. wellness center that could open in late 2019. The wellness center is a joint development between Pinewood Forest, Piedmont Fayette and Pace Lynch Corp.
As previously noted, some of the features of the wellness center are expected to include a six-lane lap pool and therapy pool, multiple fitness studios, an active gaming component, an exercise spin room and 18,000 square feet of fitness space on two floors. Another feature is the licensed D1 Sports Training program, the first in the state of Georgia, offering specific sports training for athletes from youth to professional level with dedicated space for indoor and outdoor fitness training.
With nearly 50 residential permits now issued, the residential component of Pinewood Forest is well-underway. At buildout, the large development will include 600 single-family homes, 600 apartments and 100 townhomes.
Also previously approved, the Pinewood Forest will include 125,000 sq. ft. of mixed use retail, 150,500 sq. ft. of office/commercial/retail and 300 hotel rooms.