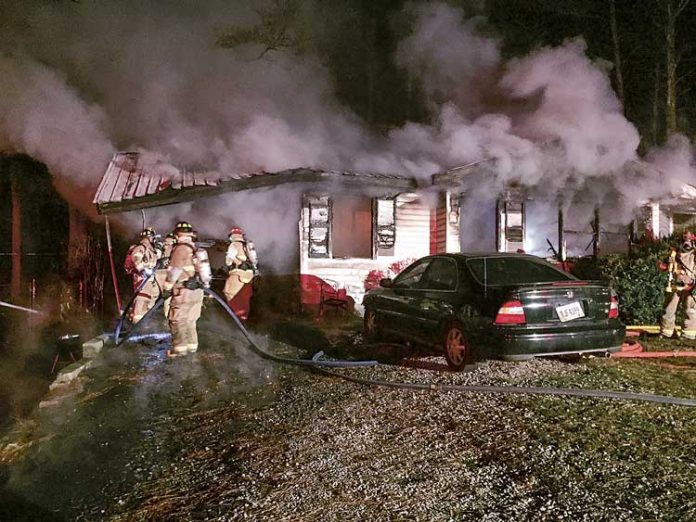 A family at a Kay Road residence made it out of the house safely on Dec. 28, escaping a stove fire that resulted in a total loss of the home.
---
Above, a Fayette County family escaped a blaze in the early morning hours of Dec. 28 that resulted in a total loss of their home. Photo/Fayette County Fire and Emergency Services.
---
Fayette County Deputy Fire Chief Tom Bartlett said units were first dispatched at 1:04 a.m., with the first unit arriving at 1:11 a.m. He said the residence on Kay Road off Ga. Highway 54 east of Fayetteville was well-involved when firefighters arrived.
The family of four escaped without injury, Bartlett said, adding that the fire marshal determined that the cause of the fire was food left unattended on the stove,
The Red Cross was on the scene assisting the residents, Bartlett added.
Responding to the blaze were three engines, one ladder truck and additional support units.
As on previous occasions in addressing countywide fire concerns, Bartlett cautioned residents to never leave food unattended, either on a stove or in a deep-fryer.
Fire Chief David Scarbrough reminded all residents to have smoke detectors installed, to check detectors monthly and to change batteries in the spring and fall.