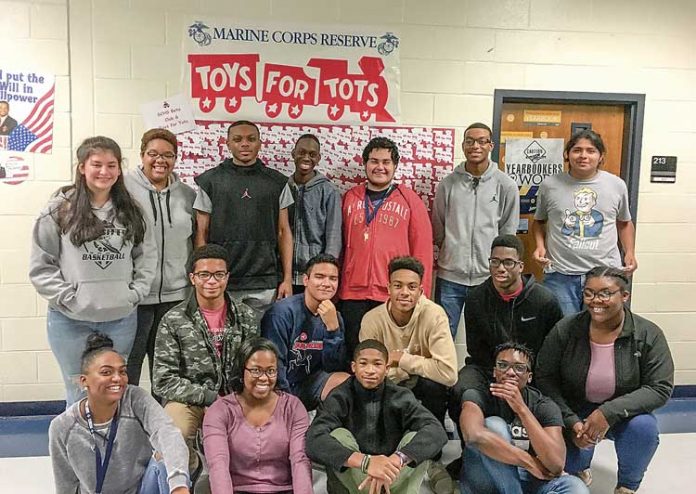 Students with the Sandy Creek High School Beta Club participated in the Marines Corps annual Toy for Tots drive, raising $900 for this year's effort.
---
Above, Sandy Creek High School Beta Club students worked to raise money for the Marine Corps' Toys for Tots drive. Photo/Submitted.
---
Sandy Creek High School social studies teacher Jennifer Sullivan, who began working with the Marines seven years ago with Toys for Tots, said the school's Beta Club students worked to raise $900 for the toy drive. The students also volunteered collecting toys at Walmart locations, Sullivan said.
Marine Corp Lt. Col. Jeff White in 2010 told Sullivan the biggest need they had was for toys for older age children and asked what could be done to raise money to help them buy toys for that group. Sullivan at the time worked at McIntosh High School.
"In 2010, we sold $1 trains to help them raise money. I honestly can't remember how much we raised that first year," said Sullivan. "When I came to Sandy Creek and eventually took over the Beta Club in 2013, I shared the idea, and the Sandy Creek Beta Club took up the project. Then my classroom students also wanted to get involved. So every year we have a contest for the class that can voluntarily raise the most money."
For Sullivan, her appreciation of the work of the Marine Corps was unmistakable. "I always love helping out this organization because it is 100 percent volunteer and all the money raised goes to children," she said.