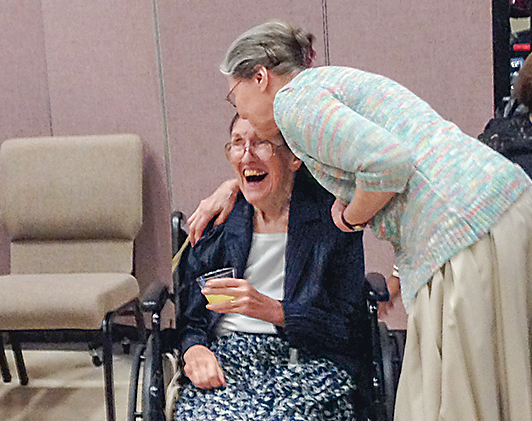 Long-time Peachtree City resident Sallie Satterthwaite (seated in wheelchair) laughs with a friend at a reception Sunday in her honor at her home church, Christ Our Shepherd Lutheran.
She is moving to Virginia to live with her daughter Jean, herself the subject of many of Sallie's newspaper columns over the years, many printed in The Citizen.
Former pastor John Weber and Joel Cowan, the founder of Peachtree City, lauded Sallie for her decades of volunteer work, especially as a paramedic in the then-all-volunteer Peachtree City Fire Department in the 1960s and 1970s.
A contingent of Peachtree City firefighters and emergency medical technicians were present to say goodbye to the woman for whom one of the city's fire stations is named.
From the first issue of The Citizen in February 1993, Sallie wrote personal columns and not a few news stories. Her final column was in January 2015. In that column,  Sallie said, "I was diagnosed a few years ago with Parkinson's disease, which is challenging to live with. Getting Parkinson's is disappointing, but I am pretty pragmatic and don't dwell a whole lot on what might have been. … And thanks for sticking with me over a lot of years (how many, Cal?), a few smiles and a few tears. I'll miss you all. Now if I can just find my email program…."
Many of her columns are archived online at TheCitizen.com. Type "Sallie Satterthwaite" in our website search window and enjoy any of dozens of pieces by one of the Southside's finest-ever newspaper columnists. Photo/Cal Beverly.