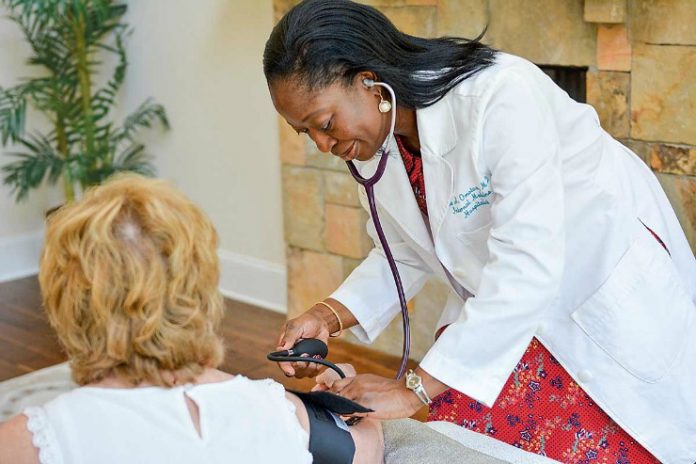 Sponsored Feature
Introducing Dr. Irene Omotoso, a kind and caring doctor who makes house calls
Getting to your physician's office for a visit can sometimes be a challenge, especially for those of us who are Seniors and who may have to depend on someone else to take us to the doctor. Dr. Irene Omotoso (say Oh-MO-toe-show), Founder and CMO of Waterfalls Medical Practice, has finally solved that problem by bringing her office to you. Yes, she makes house calls! Her entire practice is fully mobile, serving patients as well as businesses in Peachtree City, Fayetteville, Sharpsburg, Senoia and Tyrone.
"For my patients, the purpose of this practice is ultimate convenience, better quality of care, faster access to care and the opportunity to develop the kind of relationship with their physician that was common in the United States many years ago, but is quite rare today," she explains. "In their home, I can interact with my patients in their own environment. They are more relaxed and I can also talk with family to get important information that might be overlooked in the office."
But what if you need lab work or other diagnostic tests? Dr. Omotoso partners with two trusted mobile services to come to the patient's home to perform lab work or diagnostic tests such as x-rays, EKGs and even echocardiograms.
And if you are concerned about the security of your medical records, you needn't be. Dr. Omotoso enters notes on her laptop into your medical record while she is at your home and can electronically transmit any prescriptions you need directly to your pharmacy. She uses her own internet hotspot and not the patient's home wifi, so no one else has access to those records. Lab results are also entered online into a secure portal where the doctor, as well as the patient, can view the results.
When Dr. Omotoso goes back for a visit, she has the patient's medical records at her fingertips. She maintains an approved office setting with a paper chart on every patient because she wants to be able to access records and vital medical information in case of an internet outage or other problem. Plus her practice is fully HIPAA compliant.
Providing transitional care after hospital discharge is also an important part of Dr. Omotoso's practice. She does this routinely for her own patients, but she can also arrange to do transitional care visits for patients who have a primary care physician. Sometimes a newly discharged hospital patient cannot make a timely follow up visit to their physician's office due to such reasons as lack of transportation or the inability to get a timely appointment.
"In many cases, with these patients we can catch an emerging problem while it is still early and correct it," she says. "Transitional care is not only a huge convenience to the patient, in many cases it actually prevents rehospitalization. This is an enormous benefit for patients and their families."
In addition, she also provides services to established businesses, such as pre-employment and annual physicals, plus routine follow up visits, done right on site. With Dr. Omotoso, patients can see a doctor at their workplace with no lost time, protecting valuable PTO and productivity.
Waterfalls Medical Practice accepts all major insurances, plus Medicare. They accept self-pay as well and take all major credit and debit cards.
On site care patients may not have to pay if there are three or more patients on site to be seen the same day or if their company is contracted with WMP.
Dr. Omotoso relies on her faith, both in her personal as well as her professional life. "I can never separate being a Christian from being a physician. Psalms speaks about God's waterfalls. Psalm 42, verse 7 says, Deep calls to deep at the sound of your waterfalls. This image brings an atmosphere of peace to me, and as a physician who cares deeply about my patients, I find this absolutely necessary. When you are my patient, all along I tell God about you. I do my very best for you and God does the rest. The Waterfalls name reflects where my heart is most at home."