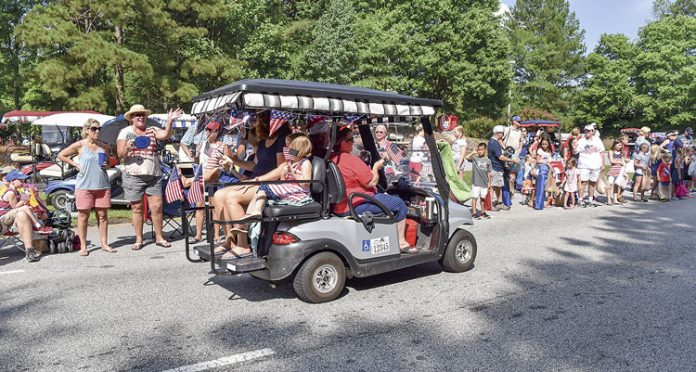 In Peachtree City, it's the signature event of the year.
On July 4, the Independence Day Parade begins at 9 a.m. on South Peachtree Pkwy (from Village on the Green to McIntosh Trail, ending at Shakerag Knoll/Huddleston Elementary). The city also has the 4th Fest at City Hall Plaza from 5 – 9 p.m. The fest features acoustic jam band, Cougar Love, from 5- 6:30 p.m., and Final Answer Band from 7 – 8:45 p.m. Other activities include face painting, caricatures, inflatables, photo booth, and food vendors.. The fireworks over Lake Peachtree begin at dusk.
Meanwhile in Newnan, head downtown to celebrate Independence Day during the 4th of July Parade on Tuesday, The parade begins at Veteran's Memorial Park (Temple Avenue Park) at 9 a.m., and will end at Greenville Street Park. Visitors should expect to enjoy public art engagements and festivities! Local artist will be hosting a Chalk-by-Color art activity on the sidewalks of South Court Square. Newnan Rocks will also be present and hosting a public art activity for the community. Local vendors will be present during the parade where guests may choose to enjoy Kettle-corn, Italian Ice, snow cones, face painting, and more!
Main Street Newnan welcomes all interested participants to meet at Veteran's Memorial Park by 8:30 a.m. Registration is only necessary for participants that intend to use a motorized vehicle to pull a float, and participation is cost free.
Free public parking is available along downtown streets, and in the City of Newnan's Public Parking Lots located at: 13 Lagrange Street, 25 Lagrange Street, 22 Spring Street, 6 First Avenue, 50 East Broad Street, 65 East Broad Street, 41 East Washington Street, and 22 East Broad Street.
For more information visit www.mainstreetnewnan.com or contact Main Street Newnan at 770-253-8283.
In Fayetteville, the annual "Let Freedom Ring" ceremony will take place on the old Fayette County Courthouse lawn July 4 at 2 p.m. It will honor the men who signed the Declaration of Independence.
Each state's name and the names of its representatives will be read and a bell rung in recognition of their brave act.
The James Waldrop Chapter Daughters of the American Revolution is the sponsor and the Marquis de La Fayette Chapter Sons of the American Revolution will post the colors and provide a musket salute.
Be sure to bring your own chair for the event which will last about 20 minutes.