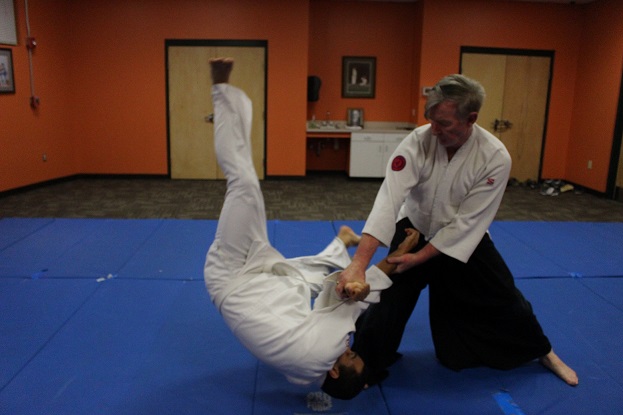 The Southside Aikido Club in Peachtree City recently celebrated its ten-year anniversary. The club operated in Fayetteville from 1992 to 1996, but was disbanded after the chief instructor was transferred with his full time job to Latin America. The club was reestablished when he moved back to the area in 2005 and has been in continuous operation since reopening.
The Japanese martial art of aikido is a form of self-defense developed from the combat techniques of feudal Japan. It is also a form of exercise and physical fitness. The art of Aikido never meets force with force, and physical strength is not necessary for the practice of this unique art. Rather than using brute strength, the student will learn to the power inherent in nature (centrifugal force, gravity, momentum, etc.) to his or her advantage. For this reason, Aikido is an ideal art for women as well as men.
The club is open to beginners, and visitors are welcome to view classes prior to joining. Classes are taught by Tim Antrim, a fifth-degree black belt. Antrim Sensei (teacher) began training at the Aikido Center of Atlanta in 1988 and has been teaching and training since that time. The dojo (school) is a certified member of the United States Aikido Federation, and Antrim Sensei's rank and teaching certification are issued by that organization.
The club meets every Tuesday and Thursday from 7:30 to 8:30 p.m. at the Kedron Fieldhouse and Aquatic Center, 202 Kedron Drive in Peachtree City. For more information, call 404-358-6785 or email inquiries to info@southsideaikido.com. The website is located at www.southsideaikido.com.
In the photo, aikido instructor Tim Antrim executes a technique on senior student Salvador Ramos. Photo/Submitted.