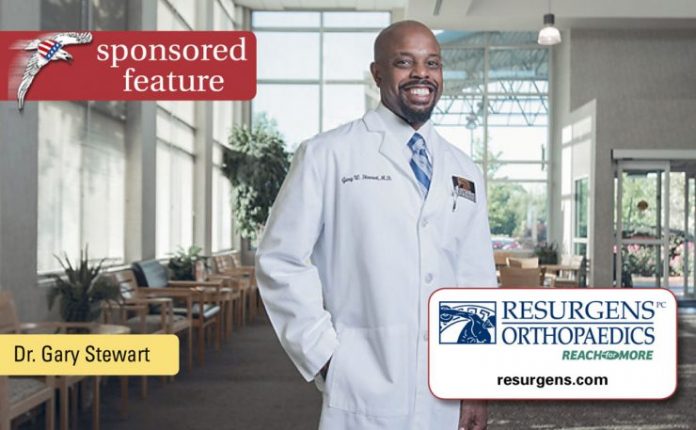 Sponsored Feature
Anyone who's ever experienced an ankle injury knows it's a particularly tricky joint. So much of our everyday movement depends on the ankle working properly, yet the slightest misstep can cause pain, swelling, and loss of use. Repetitive injuries can also be tough to treat – unless your specialist is experienced in cutting-edge procedures like total ankle replacement. Dr. Gary Stewart, surgeon at Resurgens Orthopaedics, is one of the few specialists in metro Atlanta performing this procedure, and he practices right here on the Southside.
"Very few physicians in metro Atlanta perform total ankle replacements," says Dr. Stewart, "but that isn't because it doesn't work and work well. Not every patient is a candidate but if you are, and if you have a surgeon experienced in the procedure, your outcome can be excellent."
Dr. Stewart points out that few patients are aware that a full ankle replacement is possible, partly because early surgeries, attempted in the 1970s with then-current technology, weren't successful.
"Even fifteen years ago, I would not have recommended this procedure," he says. "But today, I'd absolutely recommend it for a friend or family member who was a good candidate. It's not intended for athletes, but it's a great choice for many people over 50 and can certainly help you return to a full life. My patients are often able to go back to work and hobbies much more quickly than they anticipate – quite a few are back on the golf course within weeks."
With physical therapy, most of Dr. Stewart's patients are back in regular shoes within three months. The procedure, in which ankle cartilage is removed and replaced with customized plastic and metal components, creates a range of motion similar to a natural joint. It can help delay the progress of arthritis in surrounding joints, and can significantly reduce pain. Dr. Stewart can even perform full replacements on people who have previously had partial replacements or reconstructions. He cautions, however, that it's not a simple surgery to perform and patients should carefully vet any specialist who proposes it.
"You really want a surgeon who is fellowship-trained in foot and ankle," he says. "Always ask a prospective surgeon how many procedures they've performed, how long they've been doing the procedure, and when and where they received their training."
In addition to total ankle replacement, Dr. Stewart works alongside his colleagues to treat a variety of foot, ankle, and lower leg conditions and injuries including plantar fasciitis, bunions, heel spurs, diabetic foot conditions, hammertoes, and more. The foot and ankle specialists at Resurgens Orthopaedics can offer patients a range of surgical and non-surgical options, from therapy, to custom orthotics, to joint reconstruction. Resurgens' board-certified and fellowship- trained physicians are intensely focused on patient education to help manage conditions and prevent re-injury.
"Your feet matter," says Dr. Stewart. "When your feet hurt, everything hurts. But the foot and ankle are complex, and involve many small joints and bones, so you want to make sure you work with an orthopedist who understands the connections and the micro-motions associated with those joints.
Our foot and ankle specialists at Resurgens Orthopaedics are specially trained because we want to make sure our patients receive the best possible care." Like other Resurgens specialists, he urges people not to wait to seek treatment.
"You'd be amazed at how much we can accomplish without surgery," he says. "Just having the right shoes can change your life. Small changes can make a big difference. But if you do need a big change, we have the experience and the training to help."
Sponsored by Resurgens Orthopaedics • 1336 Hwy. 54 W, Building 500, Fayetteville • resurgens.com • 770-461-1238