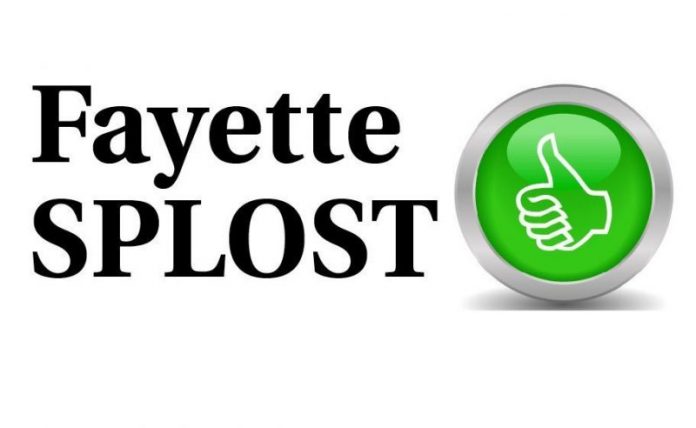 UPDATED FINAL TALLY 8:45 p.m. — Twice as many Fayette voters thought SPLOST is a good idea — or at least better than the alternative — while the NO votes went down to defeat Tuesday.
With all 36 precincts plus early voting counted, the YES votes were 5,851 (69.51%) and the NO votes were 2,567 (30.49%), according to tallies provided by the Fayette County Board of Elections by 8:45 p.m. Tuesday night. A little over 30 mailed ballots will be added to the totals by Friday, but the outcome is certain: Retail sales in Fayette County will cost one penny more per dollar beginning July 1 this year.
Turnout inched close to the 11 percent mark — 8,418 votes cast out of 76,737 active registered voters.
The new tax brings Fayette in line with the majority of Georgia counties and is expected to produce about $141 million countywide by its conclusion in 2023.
Fayette County's government is looking to get $64.6 million earmarked for county projects. Of the total, Peachtree City is expected to receive $45.5 million, Fayetteville will get $21.1 million, Tyrone $9.1 million and Brooks a little over $693,000.
Fayette County's SPLOST list includes 263 projects, mainly in the area of stormwater, but also in transportation, the public safety radio system, fire and emergency services and one project for the renovation of the historic mercantile building in Woolsey for use as a town hall, museum and community center.
Fayetteville's list includes projects related to stormwater, transportation, public safety and parks and recreation.
The Peachtree City SPLOST list includes roads, the multi-use path system, public safety, parks and recreation and dam/spillway enhancements for Lake Peachtree.
Tyrone will use SPLOST revenues for transportation, stormwater, sewer, public facilities, parks and recreation, debt service and grants.
Brooks will use the proceeds for transportation and as a set-aside for the county-managed water system.
Voters can also access the election's office Facebook page "Fayette County Elections and Voters Registration Department."
===============================
UPDATED 8:15 p.m., Tuesday, March 21 — YES is still ahead by a 2-to-1 margin. With 26 of the 36 precincts counted, YES votes for SPLOST are 4,887 (70%), with NO votes at 2,138 (30%). If trends hold, the $141 million extra penny sales tax will go into effect July 1 this year and will last until June 30, 2023.
This count brings the total vote so far to 7,025, which brings voter turnout to slightly over 9%.
===============================
UPDATED 7:50 p.m. Tuesday, March 21 — With slightly more than 4,400 votes counted now, voters continue to choose the extra penny sales tax by more than 2-to-1. The YES vote is now 3,094 (70%), while the NO vote is 1,314 (30%). Voter turnout seems to be running about 5% in a county with 76,737 registered voters.
===============================
Voters casting 3,752 early ballots have given the $141 million 6-year Special Purpose Local Option Sales Tax a hefty lead in what was a small turnout in the March 21 one-issue special election.
The first count shows SPLOST leading by 70 percent to 30 percent. Yes votes were 2,626, while No votes were 1,126.
All precincts remain to be counted, but at this point chances of passage for SPLOST look like better than even.