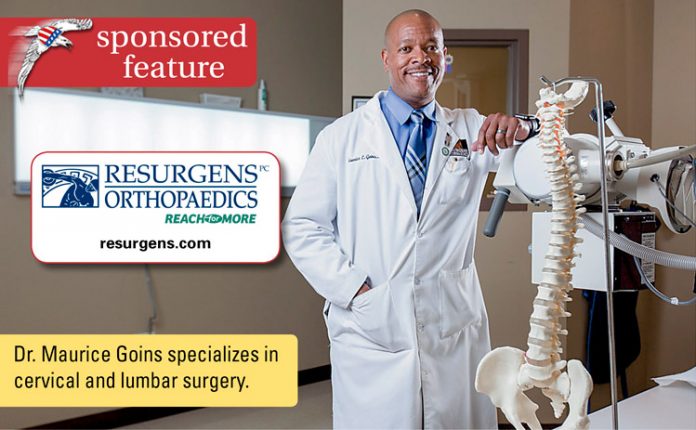 Sponsored Feature
Back pain can truly make life miserable. However, most people put off treatment of their neck and back pain because they are afraid the physician will tell them that surgery is their only option. The spine specialists at Resurgens Orthopaedics can offer a variety of non-surgical and surgical treatment options to get patients back to doing what they love. "I've always been fascinated by the musculoskeletal system and interested in finding non-invasive methods of managing injuries and conditions," says Dr. Scott Kelly, co-medical director of the spine center at Resurgens and one of the practice's experts in non-surgical spine care.
"The spine affects everything else. When people have pain in the spine, or when it isn't functioning properly, often everything aches and no part of the body works quite right. It's important that we keep our spines as healthy as possible so we can live and move as fully as possible."
Spinal issues can take a number of forms, from general low back or neck pain, to herniated and ruptured disks, to compression fractures. In addition, conditions such as arthritis and sciatica can also cause pain. The pain associated with these conditions can be intense and keep people from doing the activities they love. Dr. Kelly urges people to come in and seek treatment sooner rather than attempting to suffer through the pain alone. "People often wait until their condition is unbearable because they're afraid of being told they need surgery," he says. "In fact, most spinal issues can be managed non-surgically, and beginning to work with an issue sooner rather than later usually increases the chance that we'll be able to offer you non-surgical treatments. We have so many more options than we used to have in terms of injections, radio frequency neurotomy, medications, and physical therapy. Finding the least invasive ways to manage pain effectively is really my passion."
Of course, non-surgical treatments aren't the best choice for every patient, but Dr. Maurice Goins, who specializes in cervical and lumbar surgery, says people needn't fear surgical options either.
"I've worked with all types and severity levels of spine injury, disease, and trauma," he says, "and the outcomes today are very, very good. We can open up nerve tunnels to relieve pressure, free entrapped or pinched nerves, replace disks, and repair damage caused by infections and cancer. We've been able to successfully straighten out the spine of adolescents and adults with scoliosis, and can even repair fractures by injecting a special bone cement. The opportunity for improving lives and returning people to full function is truly incredible."
Resurgens operates several dedicated surgery centers with state-of-the-art equipment and technology across metro Atlanta. Southside locations include Morrow and an all-new facility coming to Fayetteville later this year. Four Southside offices with on-site imaging and rehabilitation centers means patients don't have to drive into the city to receive top-notch treatment. Visiting Resurgens doesn't require a referral, either, and they work with most major insurances, including workers' compensation cases. "Regardless of whether a specific patient can be treated non-surgically or requires surgical intervention for the best outcome, all of our spine specialists have the same goal," says Dr. Kelly. "We want to reduce your pain, get you back on your feet, and help you return to work or other activities as quickly as possible."
Dr. Goins agrees.
"Our practice can treat almost all spinal conditions and most patients have excellent outcomes," he says. "You don't need to be in pain and you can get the help you need close to home. Let us help you get back to doing the things you love."
Sponsored by Resurgens Orthopaedics 1336 Hwy. 54 W, Building 500, Fayetteville resurgens.com 770-461-1238