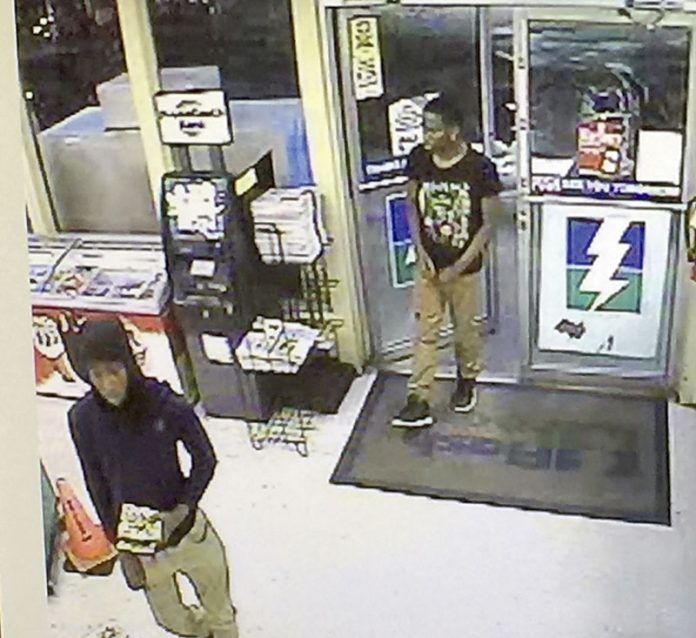 Update – Jan. 18, 12:20 p.m.: Fayetteville Police have located the stolen Lexus GX470, taken during a carjacking and kidnapping which occurred at the Checkers restaurant in Fayetteville on Sunday morning. The vehicle was located late Tuesday in the parking lot of the Riverdale Walmart store. Detectives are processing the vehicle at the Fayetteville Police Department for evidence. Anyone who knows the identity of the three suspects is encouraged to contact the Fayetteville Police Department at (770) 461-4441.
Original Story: Fayetteville police are looking for three suspects in a carjacking and kidnapping incident that occurred in the early morning hours of Jan. 15 at the Checkers restaurant.
Fayetteville Police Department spokesman Mike Whitlow said the victim was waiting outside Checkers on North Glynn Street at approximately 1:20 a.m. when he was approached by three black males, ages 18-25 and wearing khaki pants. The three men were brandishing firearms, Whitlow said.
"They removed (the victim) from the vehicle at gunpoint and forced him into the back seat," Whitlow said.
Whitlow said the suspects drove south on Ga. Highway 85 to Senoia where they stopped at the Marathon station to get gas, using the victim's credit card.
They continued on Hwy. 85 and arrived in Byron where they attempted to use the victim's credit card at a Flash Foods store, said Whitlow. The purchase was denied, Whitlow added.
The suspects drove north on Interstate 75 to Forsyth and pulled into a Comfort Inn to sleep at approximately 7 a.m.
"The victim was able to escape the vehicle and run inside the motel and law enforcement was contacted," Whitlow said, adding that the victim was physically unharmed.
Law enforcement is searching for a blue 2006 Lexus GX 470 with registration number BXB3538, last seen at the Comfort Inn in Forsyth. It is thought the suspects may be headed to Florida or to the Atlanta area, said Whitlow.
Whitlow said three suspects thought to be the same men were reported in the area during the nighttime hours of Jan. 14.
Three men were seen running to the woods behind the Tinseltown Theater at the Fayette Pavilion at approximately 8:30 p.m. They were also seen at 1:04 a.m. on Jan. 15 at the BP station at Georgia highways 85 and 314. Three suspicious males were also reported having been seen at the BP station at Georgia highways 85 and 92 within minutes before the kidnapping and carjacking across the street at Checkers, Whitlow said.
Anyone with information pertaining to this crime is asked to contact the Fayetteville Police Department at 770-461-4441.