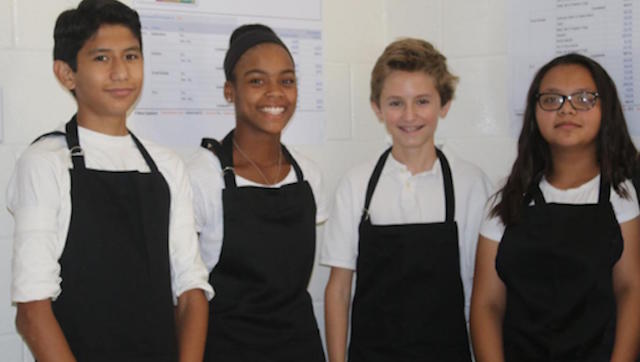 Entrepreneurial students at Flat Rock Middle proved that they could swim with the sharks when they participated in their own version of "Shark Tank" inspired by the hit ABC television show where contestants pitch business ideas to a group of executives called "sharks."
Ashley Hare, the business education and computer science teacher at Flat Rock Middle, came up with the idea as a culminating project for her eighth-graders to end their unit on entrepreneurship.
The students were tasked with working in groups to create a conceptual product, service or business, and then present the concept to at least three sharks. Ideas ranged from electronic products with students using a 3-D printer to create prototypes, to hair accessories and a bakery.
Although there were no winners or losers, Hare said the overall best group, and the one in which the sharks would have invested their money, was the group with the bakery concept created by students Alberto Alcantara-Peralta, Kennedy Hill, Kieran Marland, and Desteny Martinez. Not only did they dress the part by wearing aprons for their presentation, but they also brought samples of their baked goods for the sharks, as well as made an impressive pitch for their business.
"While their bakery attire and foods were great, this group did in-depth research on price point and their target market, as well as showed how the business could be profitable. They even thought about getting a patent," Hare added.
Hare's students worked on their concepts for five weeks before making their presentations. They created flyers, business cards, and commercials, as well as researched their product, business or service. They also watched clips of young entrepreneurs on "Shark Tank" to see how to present their ideas to the sharks.
The sharks were from the local business community, along with two school system educators. According to Hare, the sharks were not easy on the students, giving them realistic and honest feedback.
"Their comments not only helped the students who were presenting, but also their peers who were watching and taking mental notes," she said.
A total of seven sharks took part in the project including Jennifer Barnett, owner of the Dusty Rose Consignment Boutique in Peachtree City; Shelia Dusseau, director of Law Ops and Finance; Mark Turner, CEO of Turner PhotoDesign in Fayetteville; Vendo Toming, principal of VT Associates, LLC in Peachtree City; Carlotta Ungaro, president and CEO of the Fayette County Chamber of Commerce; Dr. Ted Lombard, coordinator of safety, athletics and discipline for Fayette County Public Schools; and Lisa Collins, director of career and technical education for Fayette County Public Schools.
"We were very honored and privileged to have such a wealth of knowledge contribute to the success of our students," Hare said.