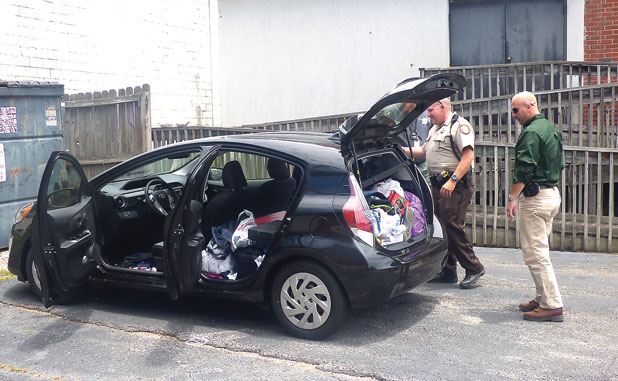 Man hid behind dumpster, woman fled into store, put on consignment clothes
A shoplifting incident at the LensCrafters store at the Fayette Pavilion on July 15 soon led to a foot chase after the two shoplifters abandoned their vehicle on North Glynn Street next to the offices of The Citizen and were taken into custody after a quick search of the area.
California resident Lamant E. Smith, 44, was charged with felony shoplifting, financial identity fraud and forgery of a financial transaction card, according to Fayette County Jail records.
Also arrested was California resident Kimberly Wallace Smith, 46, on charges of felony shoplifting, according to Fayetteville Police Department spokesman Mike Whitlow.
Whitlow said the pair were shoplifting at LensCrafters when they were confronted by employees. The two fled the store, though a description of their vehicle was obtained and forwarded to police officers.
A Fayette County Sheriff's deputy on North Glynn Street spotted the vehicle that soon turned into a parking lot in the 300-block. The couple abandoned the vehicle beside a dumpster.
Numerous units of Fayetteville officers and sheriff's deputies arrived and minutes later found Lamant Smith later hiding behind the dumpster. Kimberly Smith was found in a consignment store a short distance away, having put on additional clothing in an apparent attempt to conceal her identity.
Sheriff Barry Babb said the vehicle, which was full of a variety of merchandise, was a rental car from Florida.