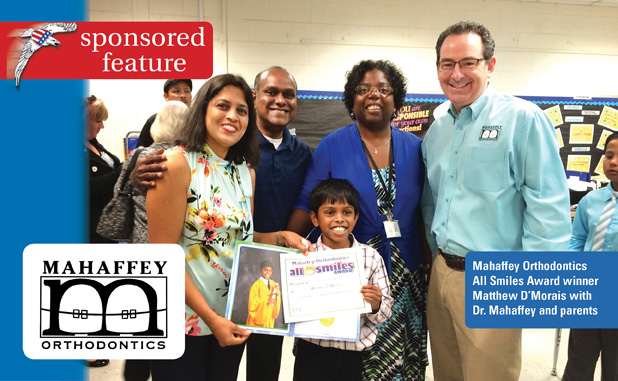 Sponsored Feature
Nearly 60 public and private elementary and middle school students from Fayette and Coweta counties are "All Smiles" heading into summer vacation this year, thanks to Dr. Michael Mahaffey of Mahaffey Orthodontics in Peachtree City. The first-ever Mahaffey Orthodontics All Smiles Award, recognizing a student in each grade who exhibited an exceptional attitude this school year, was presented to a total of 57 students at 20 schools. The winners were chosen by teachers and administrators at each school. Each student received an Amazon Gift Card worth $100. At St. Paul Lutheran School, Dr. Mahaffey also provided an Amazon card to the recipient of the annual Matthew 6:33 Award, which goes to the student showing the most character.
Additionally, the 20 schools participating in the program each received $100 matching donations, generally $200 for each elementary school and $300 for each middle school. These donations from Mahaffey Orthodontics helped underwrite the awards programming or any other expense the schools have.
"Our entire team was excited about honoring students who make others smile through their exemplary attitude," Dr. Mahaffey said. "I'm so proud of these fine young students and congratulate them on their good example and leadership. I was also honored to be able to sponsor the awards program with a donation to each school."
School leaders reported that their students were both surprised and thrilled to receive the All Smiles Award.
"Our teachers did a great job choosing the recipients from each grade level for the Mahaffey Orthodontics All Smiles Award," said Rebecca Tucker of Arnall Middle School in Coweta County. "The students chosen truly do have a great attitude and make those around them smile! They were beaming from ear to ear with their certificate and gift card."
A longtime Partner in Education through the Fayette Chamber, Dr. Mahaffey was so pleased with the school participation and results of the program this spring, he's committed to offering the award again next year.
Participating schools and the All Smiles Award winners include:
COWETA ELEMENTARY SCHOOLS: Arbor Springs Elementary: Clark Coggin (4th), Marlena Harbuck (5th); Eastside Elementary: Brianna Smith (4th), Joshua Sherman (5th); Willis Road Elementary: Jensyn Carlisle (4th), Garrett McLay (5th).
COWETA MIDDLE SCHOOLS: Arnall Middle: Mia Person (6th), Donia Chiciu (7th), Madison Stewart (8th); East Coweta Middle: Kelsie Richardson (6th), Lupita Briseno (7th), Madison LoGalbo (8th); Lee Middle: Jada Cutliff (6th), Destiny McCrary (7th), Myquel Hill (8th), Madison Nix (8th).
FAYETTE ELEMENTARY SCHOOLS: Braelinn Elementary: Simon Ruiz (4th), Kit Cat Siguenza (5th); North Fayette Elementary: Melissa Villagomez (4th), Jazlyn Richmond (5th); Oak Grove Elementary: Jack Smith (4th), Joey Hood (5th); Peachtree City Elementary: Isabella Hickey (4th), Matthew D'Morais (5th); Peeples Elementary, Audrey New (4th), Hayden Andrews (5th); Robert J. Burch Elementary: Isabella Murtha (4th), Kennedy Bynoe (5th); Sara Harp Minter Elementary: Jaden Groce (5th), Kayla Aldridge (5th).
FAYETTE MIDDLE SCHOOLS: Bennett's Mill Middle: Evan Canby-Pratt (6th), Kaylin Belwood (7th), Tristen Ohonde (8th); J. C. Booth Middle: Sophie Hollowell (6th), Jessica Sy (7th), Jace Christen (8th); Flat Rock Middle: Skylar Smith (6th), Solange Aniekwu (7th), Gaby Rozales (8th); Rising Starr Middle: Elizabeth Miller (6th), Emma Parker (7th), Sarah Goins (8th).
PRIVATE SCHOOLS: Central Christian: Clay Blackstock (4th), Mercer Parrott (5th), Louis Gagnon (6th), Aaron Cawood (7th), Kendra Jenkins (8th); Grace Christian Academy: Victoria McDonald (4th), Miderline Charles (5th), Kathryn Street (6th); Chloe Hanna (7th), Calvin Feldt (8th); St. Paul Lutheran School: Elizabeth Barnett (4th), Alyssa Gibson (5th), Avery Metarko (6th), Andrew King (7th), Garrett Preble (8th), Orianna Roland (Matthew 6:33 Award).
"When I started Mahaffey Orthodontics 25 years ago, I wanted to create more than just a practice. I wanted to make a deep impact on the community. Supporting education and the way our local schools honor their students is the perfect way for me to say 'Thank You.'"– Dr. Michael Mahaffey