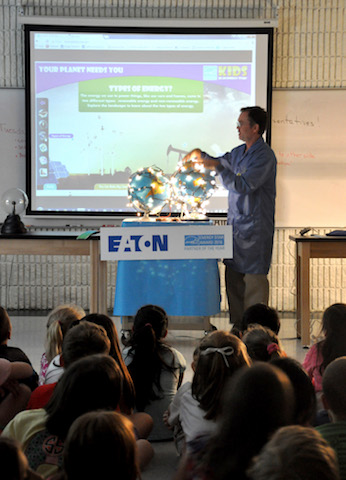 Power management company Eaton, a 2016 ENERGY STAR Partner of the Year, recently hosted an ENERGY STAR Day at Huddleston Elementary School in Peachtree City.
Educating the students about energy usage and the many ways they can reduce energy consumption, Eaton's locally-based Lighting Division team hopes students become responsible energy stewards who can help the planet by understanding energy conservation.
"ENERGY STAR Day helped students learn about the importance of energy conservation and was an ideal opportunity for our students to connect with professionals in our community," said Heidi Pfannenstiel, principal of Huddleston Elementary. "As we begin our summer break, we want the students to start to think about how they too can be ENERGY STARs, helping to save energy and our planet."
The Eaton team performed experiments and talked about what energy is; where energy comes from; and the different types of energy with 700 kindergarten through fifth-grade students. Demonstrations included the differences between incandescent and light-emitting diode (LED) technology, including melting ice by both light bulbs to show energy usage and the amount of heat produced by each light source. Christmas lights with both technologies hooked up to voltmeters also compared energy usage.