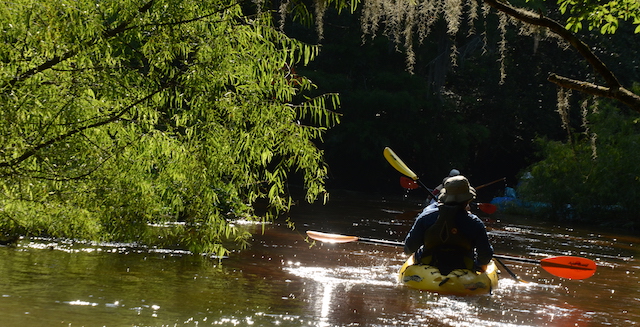 More than 400 people will hit the Conasauga River this Saturday as part of Georgia River Network's Paddle Georgia 2016. The canoe and kayak journey will end seven days and 103 miles later in Rome.
The 2016 edition of Paddle Georgia will begin in the Whitfield County community of Beaverdale June 18 and end in downtown Rome's Heritage Park on the Coosa River June 24. Along the way, participants will paddle on the Conasauga, Coosawattee, Oostanaula and Coosa rivers and get an up close look at these rivers that cut a swath through northwest Georgia's Ridge and Valley region.
Paddlers hailing from across Georgia, 13 other states and even Australia will make the event the largest week-long canoe/kayak camping adventure in the country with participants ranging in age from 4 to 84.
On the river by day, at night, the participants will camp at nearby facilities such as local high schools. The paddlers will call Chatsworth and Calhoun home for the week, camping at Murray County High School and Calhoun High School before a final night on the river at Heritage Park in Rome.
The event includes educational programs on the river's cultural and natural history, tours of facilities and historic sites located along the river, nightly games and entertainment, and even a research program in which participants will help collect chemical and biological data with the Georgia Adopt-A-Stream program to give a snapshot of the river's current health.
The trip culminates June 24 with a Journey's End celebration and feast hosted by Coosa River Basin Initiative. Members of the community are invited to attend the event, which includes a traditional fish fry meal. The celebration is from 2-8 p.m. with dinner at 6 p.m.
This is the 12th anniversary for Paddle Georgia. In the event's first 11 years, GRN has introduced more than 3,600 paddlers to more than 1100 miles of water trails on 12 Georgia rivers. Along the way the event has generated more than $300,000 for river protection.
A portion of the proceeds from this year's event will benefit CRBI, a nonprofit organization working to protect the Coosa River and its tributaries in northwest Georgia and northeast Alabama.