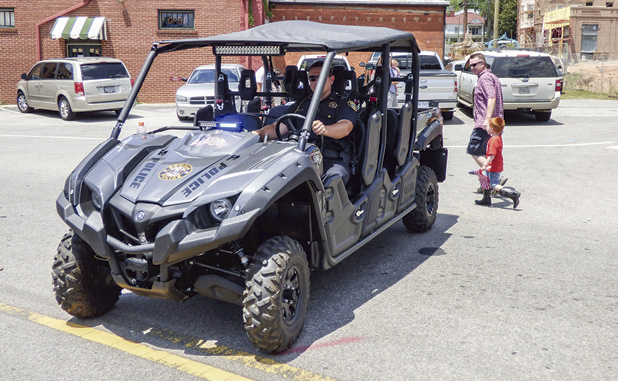 Residents of Senoia may have recently seen a new police vehicle around town and at civic events. It's a Yamaha EPS 4X4 donated by Yamaha Motor Manufacturing Corp. in Newnan.
Senoia Investigator Jason Ercole said the department recently received the six-passenger 4X4 complete with a cargo bed.
Senoia has a number of lakes, ponds and trails that can be patrolled using an ATV. The vehicle will also be used during civic events, such as the recent Memorial Day event when the Yamaha made its public debut, Ercole said.
Public events are held numerous times during the year in Senoia. And it is during those occasions that an ATV can assist both police officers and citizens, Ercole explained.
"We're appreciative of Yamaha's support of local public safety and we're proud to use this vehicle in service to the citizens of Senoia," said Ercole.
Ercole said the department became aware of a Yamaha recycling program, the proceeds of which go toward the donation of Yamaha vehicles for public safety purposes.
The department forwarded a letter to Yamaha outlining the uses for which such a vehicle would be employed in areas of the city. Yamaha responded and subsequently donated the vehicle, said Ercole.
"Yamaha Motor Manufacturing Corporation of America is committed to meeting a high standard of corporate social responsibility, protecting the health and safety of our associates, being good stewards of the environment and sharing our success by supporting the communities where we operate and our employees live," said Yamaha Corporate Planning Engineer Melanie Sewell. "Our Corporate Donation program, which consist of Employee Donation Matching and corporate donations to local organizations that fit in our CSR guidelines, is funded through our recycling program, where employees recycle waste materials such as plastics, cardboard and metals. This reduces our impact on the environment and allows our company to support community efforts and organizations that are important to our employees."