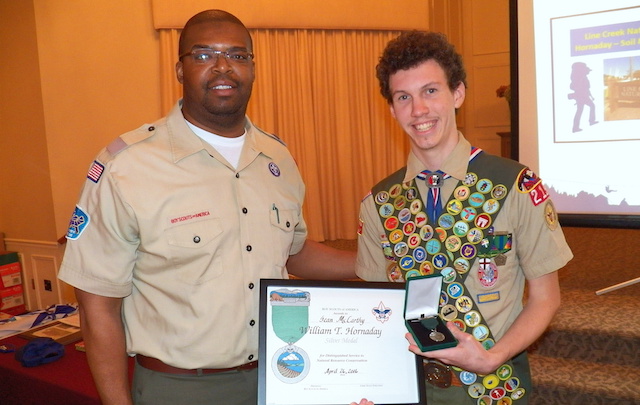 In the last 100 years more than two million scouts have earned the rank of Eagle Scout, but in that same time period only 1,200 scouts have qualified and distinguished themselves in earning the Hornaday Silver Medal.
Last month at the Court of Honor for Boy Scout Troop 2193, from Cokes Chapel United Methodist Church, Eagle Scout Sean McCarthy became the first Scout in Flint River Council history honored with this award. The award named after Dr. William T. Hornaday, an ardent conservationist, is intended to recognize Scouts who undertook and completed truly exceptional conservation projects.
Sean began his quest for "Silver" back in the spring of 2012 by conducting his first of four conservation projects. His first was erecting 8 triple cell bat houses with the support of his fellow scouts. Calling it "Habitat for Bats" at the James McGuffey Nature Center in Newnan, this earned him the Hornaday Badge and his Eagle Scout rank.
The following year, as a senior patrol leader he led his troop down to the piedmont area of the Gerald I. Lawhorn Scouting Base in Molena. Here his unit cleared invasive species to protect the longleaf pines and the Red Cockaded Woodpeckers, currently on the endangered list here in Georgia. This earned his troop the first Hornaday Unit Award in Flint River Council.
The following year, Sean worked with Tray Baggarly, director of the Coweta County Fairgrounds and Convention Center and Buffalo Rock, their beverage vendor in setting up an ongoing recycling program for its many yearly public venues. His slogan the "Fair Goes Green in 2015" was a major success.
For his fourth and final project, Sean again turned to his favorite local nature trail; the Line Creek Nature Center & Trails in the Peachtree City Area. Here as a Cub Scout he conducted many spring clean ups with his scout buddies and dad. Now with the financial support of the Southern Conservation Trust and 30+ scouts, and 15 adults, from his troop; Sean color blazed five trails, constructed a water-bar system to protect a main trail from water erosion, repaired 2 trails, built two split rail fence for protected areas, closed a number of social trails, and posted a number of informational signs promoting positive usage and rules for this wonderful public hiking space.
These four projects total more than 1,200 service conservation hours. During this time period he was also required to earn six specific and another three optional nature-related merit badges. He added 12 optional.
In late January of this year, with a total of 102 merit badges and 14 Eagle palms, he sent in his paperwork and waited to see if he would be selected for the silver medal. At the end of April the decision was made and in the mail May 9 Sean learned that he would join a select group of Scouts in earning the Dr. William T. Hornaday Silver Medal for Natural Resource for Conservation.