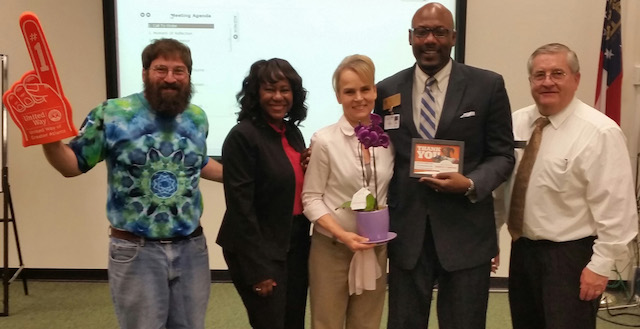 The United Way of Greater Atlanta recently named the Fayette County School System as a 2016 Excellence in Campaign Award winner.
The award is given to organizations that have increased their total giving over the years or maintained their campaign under challenging circumstances, and/or chooses United Way of Greater Atlanta as their partner of choice.
Rising Starr Middle was also honored for raising the most donations during the 2015 campaign, and received a decorated cake for all of the faculty and staff. Additionally, Sheryl Taylor, county engagement director with United Way, presented Melinda Berry-Dreisbach with an orchid in appreciation of her serving as the school system's campaign manager for the last 15 years.
In the photo: Melinda Berry-Dreisbach (center), public relations, and Dr. Terry Oatts, assistant superintendent of student achievement, accept the Excellence in Campaign Award presented by (from left) Leonard Presberg, Fayette County United Way Advisory Board member; Sheryl Taylor, United Way county engagement director; and Jim Mothorpe, Fayette County United Way Advisory Board chair.