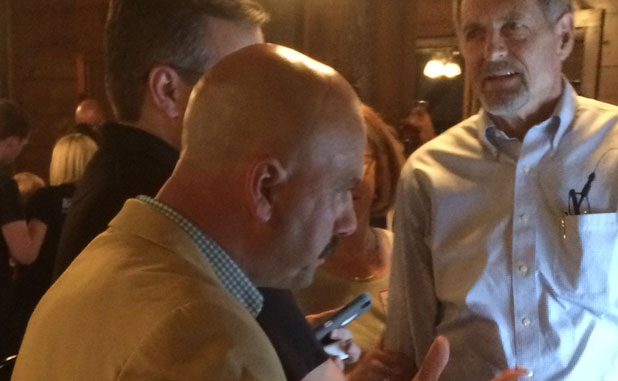 Fayette's Pace comes in 3rd in congressional race; in a rarity, a sitting superior court judge falls
Primary winners: Oddo, Ognio, Maxwell, Hollowell, Anderson, Crawford, Ballard, Babb, Jackson
Facing runoffs: Crane and Ferguson, Coker and Hayes, Yates and Mathiak, Bazemore and Pritchett
The May 24 ballot was packed with the largest number of candidates in recent memory, yet the turnout was 18.08 percent of registered voters.
Sheriff Barry Babb won re-election with the night's largest margin. Babb garnered 88.15 percent of the vote while challenger Chris Stevers received 11.85 percent.
"The people of Fayette County continue to humble me and I consider it a true honor to be re-elected," Babb said. "I look forward to continued service with a great team of men and women for many years to come as we strive to keep our county and our citizens safe."
In Fayette-only Republican races, incumbent Fayette County Commission Chairman Charles Oddo out-distanced four other challengers — including two former mayors and a former commissioner — to win the Republican Primary at-large seat without a runoff. Oddo has no Democrat opponent in the fall election.
Incumbent Commissioner Randy Ognio squeezed by his District 2 challenger, former Commissioner Lee Hearn of Brooks, by 28 votes out of 3,886 cast.
Pertaining to a recount, Elections Supervisor Tom Sawyer said a recount needs to be requested by a candidate and, as of Thursday afternoon, his office had not received a request.
Incumbent David Barlow lost his reelection bid to former Commissioner Eric Maxwell by 10 points in District 1. Maxwell will face Democrat Pam Reid in the November general election.
Incumbent Board of Education Chair Marion Key lost her race to Scott Hollowell by 75 votes in District 3. Hollowell will face Democrat A.K Stowman in November.
"I am truly humbled by last night's election win," Hollowell said. "I want to thank everyone who worked so hard on the campaign. I also want to thank Marion Key for her many years of dedication to our students and our schools. She is a respected leader in our community. One election down and one to go. I look forward to continuing meet with people to earn their votes and their trust."
Brian Anderson won his first political race in School Board District 5 against Susan Stopford. Anderson beat Stopford by 19 points. He'll face Democrat C.C. Yap in the fall general election.
In the multi-county district attorney's contest, Assistant District Attorney Ben Coker of Upson County got 11,389 votes (46.7%) across the Griffin Judicial Circuit. Tyrone attorney Rudjard Hayes polled 6,809, carrying Fayette but getting blown out in Spalding, Pike and Upson. Fayette attorney Cindy Manning got 6,150 to come in third. Coker and Hayes will meet in the GOP runoff July 26.
In the two contested nonpartisan superior court judges races, one incumbent won and one lost. Judge Mack Crawford turned back Fayette attorney Catherine Sanderson's bid to unseat a sitting judge 20,140 votes (65%) to 11,047 (35%). Crawford won all four counties in the circuit.
District Attorney Scott Ballard gave up a safe reelection bid to run against a veteran sitting judge, Tommy Hankinson of Upson County. Ballard, a Fayette native, lost in the other three counties of the circuit but won big in Fayette, beating Hankinson 17,527 (55%) to 14,171 (45%). Ballard's margin of victory came in vote-rich Fayette.
The race to succeed retiring Republican U.S. Rep. Lynn Westmoreland will be decided in a runoff between dentist Drew Ferguson, the former mayor of West Point, and Coweta State Senator Mike Crane. The two were locked in a virtual tie Tuesday night at 27% each in balloting across 192 precincts that saw 57,099 votes cast for a field of seven candidates. Crane led Ferguson 15,343 votes to 15,277, a difference of 66 votes. Fayette Countian Jim Pace came in third with 13,198 votes (23%). Crane and Ferguson will meet in the July 26 runoff.
In a Republican race involving south Fayette, the state's oldest legislator at age 94, John Yates of Griffin, was unable to avoid a runoff with his challenger Karen Mathiak in a three-person race. Yates received 2575 votes (49%), to Mathiak's 2448 (46.6%) across Fayette, Spalding and Henry counties. Mathiak took 761 votes in Fayette, while Yates had 887 in Fayette. Yates served in World War II, having flown a Piper Cub reconnaissance airplane to guide artillery fire onto German positions in the Battle of Bulge.
In Democrat races involving Fayette precincts, the following are unofficial final results in contested races:
District 63, Ga. House (Clayton, Fayette and Fulton) — Debra Bazemore of south Fulton County led the field of five with 1,203 votes (365 in Fayette) over second-place finisher Linda Pritchett of Riverdale with 1007 (294 in Fayette). The two will meet in the July 26 runoff election. The seat is being vacated by Democrat Rep. Ronnie Mabra of Fayetteville, who announced last year he was leaving office to spend more time with his family and law practice.
District 64, Ga. House (Fayette and Fulton) — Derrick Jackson of Tyrone won without a runoff with 1,992 votes (53%), including 898 in Fayette. His opponents Kathy Adams and Terry Williamson received 1360 (252 in Fayette) and 402 votes (195 in Fayette) respectively. Democrat Rep. Virgil Fludd of Tyrone has held this post for several terms but announced he was stepping aside earlier this year, reportedly to take advantage of a career opportunity.
Commenting on his May 24 victory, Jackson said, "Victories don't often come down to a single person, they are won on the backs of many, and those that have been my supporters, I am truly grateful. Rep. Virgil Fludd has served District 64 honorably and his leadership will be missed. As your public servant and advocate, I am grateful for meeting my constituents in Fayetteville, Tyrone, College Park, Union City and Fairburn. I have discovered three things on the campaign trail: 1) "we" the citizens of District 64 have more quality-of-life interests in common than not, 2) "we" equally desire the best for our families, and 3) campaigning will get you into shape, especially after averaging 19,000 steps per day, knocking on doors to share my thoughts and to learn the interests of the voters.
"Lastly, I would like to thank my family, friends and God for their encouragement and sponsorship during this primary election. Now the real work begins and I will need your continued support to ensure District 64 maintains the absolute best education system, bring the best corporations to Fayette and south Fulton counties to lower unemployment and to preserve our democracy in Georgia."