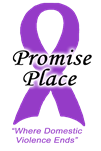 Promise Place is hosting its first annual "Walk-A-Mile in Her Shoes" walk to support victims of domestic violence Saturday, June 11.
The walk will begin at Heritage Park in downtown Fayetteville, proceed down North Jeff Davis, home to Promise Place's main office, and will conclude back at Heritage Park. This one mile walk in women's shoes will show the support to stop rape, sexual assault, and gender violence. Men, women and children are encouraged to participate in this walk, to show their support of all those struggling with domestic violence issues. Women's shoes will be worn by each participant.
The walk begins at 10:30 a.m. with registration opening at 10 a.m. Tickets are $30. For tickets, visit www.promiseplace.org or call Wendi Bozeman at 770-461-3839 ext. 112.
Promise Place is a nonprofit agency serving victims of domestic violence and their children in Fayette, Pike, Spalding and Upson counties.