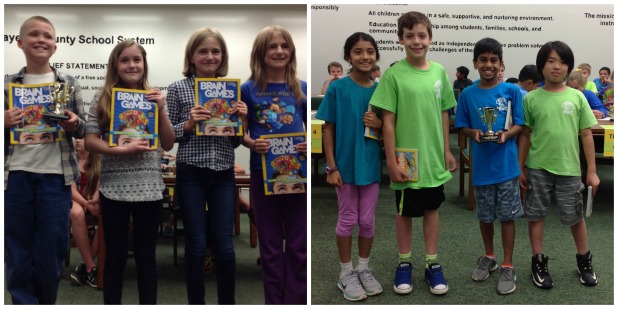 Fourth- and fifth-grade math whizzes from the county's 14 elementary schools battled in the 2016 Fayette County Elementary Math Tournament, proving they know how to crunch numbers.
The team of Sunanya Guthikonda, Eli Kilgore, Nikhil Chichliker, and Rentaro Oka took Kedron Elementary to a first-place victory in the fourth-grade competition.
Likewise, the Robert J. Burch Elementary team of Wyatt Vincent, Rachel Redd, Victoria Castagnola, and Catherine Castagnola clinched first place in the fifth-grade contest.
Braelinn Elementary and Kedron Elementary took second place in the fourth- and fifth-grade competition, respectively. Braelinn's team consisted of Ginger Swayne, Ava Newell, Alex Yang, and Landon Justice; Kedron's team included Joseph Farawisata, Tsubasa Kitada, Tito Alofe, and Makayla Coffield.
Peeples Elementary and Inman Elementary took third place in the fourth- and fifth-grade competitions. The Peeples' team consisted of Dorsey Benefield, Lucas Dee, Katherine Rausch, and Bailee Taylor; Inman's team included Devin Brown, Ian White, Olivia Ray, and Emily Wagoner.
The top three teams each received a trophy to take back to their school to celebrate their achievement. In addition, as the county's fourth- and fifth-grade champions, Kedron Elementary and Robert J. Burch Elementary, will have their school names added to the plaque of champions that is displayed in the math classroom at the LaFayette Educational Center.