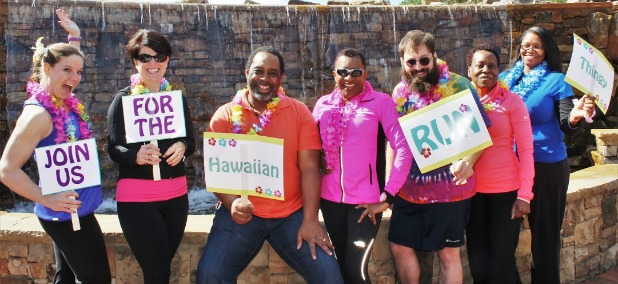 AVPRIDE is saying "Aloha!" again this year at its annual Hawaiian Run Thingy. This uniquely-named community gathering combines Hawaiian shirts and grass skirts, tastes of Hawaii, and fun activities for everyone.
The Run Thingy brings a Hawaiian experience without the cost of travel. Featured activities include Hula dance lessons, limbo, karaoke, trike races, Hawaiian shirt contest, bouncy house, coconut roll, live tropical birds, steel drums, Sandbox Discovery, acting workshops featured by the Woodruff Arts Center, an "amazing" post-race celebration.
It will all take place Saturday, April 16, beginning at 4 p.m. at Shakerag Knoll, 192 McIntosh Trail in Peachtree City.
This year, AVPRIDE has added a certified 10K race. Paul Schultz, a representative of Panasonic, one of Run Thingy's sponsors, noted, "As someone who likes to race, I really enjoyed last year's 5K course, and the Hawaiian Run Thingy should be even better this year with a chip-timed, certified 10K course." AVPRIDE will again feature a 5K race, and a 1-mile fun run, walk, and roll (for wheelchair racers).
One of last year's exhibitors, TCBY Yogurt, will be back again this year. As TCBY's Mike Murtaugh commented, "We really enjoyed being there and feeding off the Hawaiian theme. We offered special flavors of frozen yogurt like pina colada, mango sorbet, and Hawaiian pineapple. Run Thingy was such a unique event with great activities for the entire family that you just can't find anywhere else."
"SNAZ" – Special Needs Accommodation Zone – will be on site at Run Thingy, providing a safe environment for comfort and care of families. Truett's Luau will be at the grill preparing fresh Hawaiian burgers and yummy sides for dinner.
"Our community has a genuine desire to be part of something that ultimately results in community good will," shared AVPRIDE Executive Director Pam Reid. "The Hawaiian Run Thingy's fun, health, inclusiveness and support for a local charity are a bonus. I can hardly wait for everyone to see and enjoy the new additions to this year's event."
For more information and to register for the 10K, 5K, 1-mile fun walk/run or the 50-yard roll, visit www.runthingy.com.