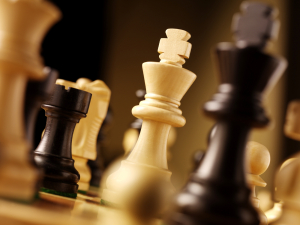 Due to the great success of last year's inaugural Fayette County Chess Tournament, the competition has returned again this year giving local chess players of all ages and skill levels an additional venue to showcase their abilities.
The Fayette County Chess Tournament will take place Saturday, April 23, 9:30 a.m.-2:30 p.m. at Inman Elementary School, 677 Inman Road in Fayetteville.
Inman teacher Charlie Harper, sponsor of the school's chess club, came up with the idea of having a Fayette County tournament last year. Not only does the event provide local players with a competition that is closer to home (the closet tournaments are in Clayton and Coweta counties), but it also helps generate funds to support the growth of the Inman Elementary Chess Club, which is in its third year at the school.
Registration is $20 per person on the day of the tournament, or $15 per person by pre-registering online at http://tinyurl.com/inmanchess. The registration fee includes two slices of pizza and a drink. Payments of either cash or check will be collected at the door. No credit or debit cards accepted.
Check-in and registration is from 8:30-9:30 a.m. Pre-event briefing and pairings will begin at 9:45 a.m., the first round will start promptly by 10 a.m.
The tournament is open to players of any age, skill-level, and county of residence. All players will participate in five rounds of competition regardless of performance. Game clocks will be used with rounds lasting 40 minutes with no delay.
Awards will be given to the top five placements in each section. All players will receive a certificate of participation.
More information is available at http://tinyurl.com/inmanchess or by contacting Charlie Harper at harper.charles@mail.fcboe.org.