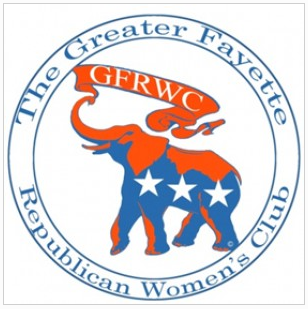 The Greater Fayette Republican Women's Club will be meeting Thursday, April 7, at 6 p.m. for dinner at Tim's Country Kitchen, 221 Banks Station in Fayetteville. The guest speaker will be Ginger Howard, who is running for RNC national committeewoman from Georgia.
A native of Waycross and graduate of the University of Georgia, Howard boasts more than 25 years of involvement in the local and national political realms. She is a former member of the National Republican Congressional Committee, the National Republican Senatorial Committee, and the Georgia Republican Foundation. Howard currently serves as the President of the Buckhead Republicans, and is a member of the Fulton County Republican Party, and the Georgia State Committee.
A volunteer grassroots leader since 1989, Howard has engaged in politics as a leader on a number of different fronts. In recognition of her extensive involvement, Howard received the 2013 Georgia Republican Party's Volunteer of the Year Award. She is a 2007 graduate of the Coverdell Leadership Institute, a member of the Women's National Republican Club in New York, and former 5th District Secretary. Howard served as a Delegate to the 2012 National Republican Convention.
"After 23 years as a small business owner, she has gained the respect of her local community and understands the desperate need for conservative leadership in Washington D.C., Georgia, and in local communities," according to a spokesperson. "Ginger cares deeply about the future of our country, and as demonstrated by her decades of service and commitment, she is devoted to serving Georgians and Americans alike with true conservative values."
The buffet dinner is about $10 per person including beverage, dessert, and tax. For more information, contact Debby Dickinson (ptcdebby@bellsouth.net/404-376-4132).