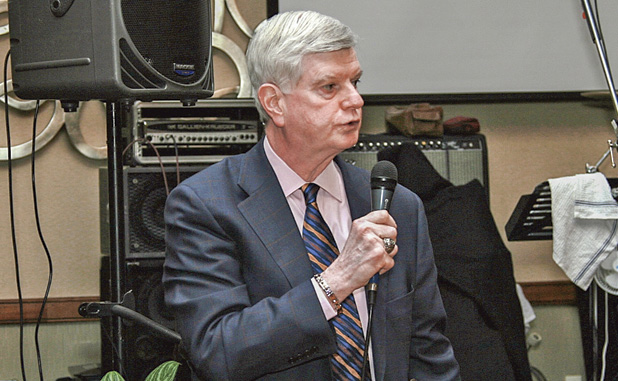 One of Fayette County's most successful companies the past two decades has made a mark in its industry across the nation while also having an impact in the local community through various charitable endeavors.
And it almost didn't happen, at least not here.
Peachtree City was not even on the radar of the leadership at SMC3 when the search began in the mid-1990s for a new headquarters, moving from its midtown Atlanta location adjacent to the Woodruff Arts Center.
"When we moved the business here 17 years ago, the search area was as far south as the Atlanta airport and no farther," said retiring president/CEO Jack Middleton, who has led the company for 20 years. "After we were involved in six months of a frustrating search, the real estate broker was familiar with Peachtree City and took me down here for lunch. We pulled into Westpark and I knew immediately that this was where we were going to have our new home."
The company built a pair of buildings there and now utilizes 80-85 people at that location out of about 130 total employees. Nearly all of the Peachtree City employees live in the Fayette-Coweta region.
Middleton's last official day as head of SMC3 was Feb. 26, although he will be staying on board through the end of 2016 in a consulting role. A two-year succession plan was implemented and Andy Slusher joined the company as president in January of 2015, moving into the CEO role upon Middleton's retirement.
SMC3 is described by Middleton as a service organization in the LTL (less than truckload) industry. LTL companies use the hub-and-spoke system with terminals throughout a region to move freight, whereas truckload carriers will load up an 18-wheeler and take it straight from Point A to Point B.
Middleton said a number of professors in supply-chain management and logistical management told him over several years that a book should be written about the company and it should be the subject of a Harvard business review because of the unique role it plays in its industry.
The book has recently been published. "Long Haul Legacy," written by F. Martin Harmon, details the evolution of motor freight and the role SMC3 has played in shaping the industry.
"We previewed the book last month in Atlanta," said Middleton. 'It's a great book that talks about the trucking industry in general as well as our role in it. The timing was just perfect for it."
A big reason for the move to Peachtree City 17 years ago was to allow SMC3 to be a much larger player in the community as far as civic and charitable involvement goes.
"We were a little fish in a big pond when we were in midtown Atlanta," said Middleton. "We wanted to get involved in the community and that was one of the things that was important to me – to identify a location where we could have some kind of impact and give back to the community in multiple ways. That certainly influenced our move to Peachtree City once we discovered this town."
Middleton's community involvement outside the company has been significant. Perhaps the cause closest to his heart is Bloom, the former Fayette Youth Protection Homes. He has served on that organization's board for more than seven years and is in the second half of a two-year term as the board's president. Bloom is headquartered in a facility that SMC3 purchased, renovated and leases back for one dollar a year. The company is also sponsoring the upcoming Bloom Ball.
SMC3 has also sought to support the local arts community, and its primary way of doing that has been as a sponsor of the Frederick Brown Jr. Amphitheater's summer concert series for a number of years.
Middleton serves on the Aviation Advisory Council for U.S. Rep. Lynn Westmoreland and is a member of the U.S. Council on Competitiveness. In the past he has been very active in the Fayette Chamber of Commerce.
Aside from his consulting work the rest of the year at SMC3, he doesn't plan to sit still. "My wife has been asking me recently if I'm going to retire to be busier than I was working on a regular basis," he said with a laugh.
Among those things he expects to keep him busy are a house on Lake Wedowee, his golf game, 3 million Delta Skymiles and 2 million Marriott points, not to mention "a couple of beautiful grandchildren."
But the Fayette-Coweta area will always be important to him. He and his wife reared their children in Fayette County and they all still live in the metro Atlanta area. The couple moved into a new house in Newnan less than two years ago, "and that's where they will carry me out in a pine box one day," he said.