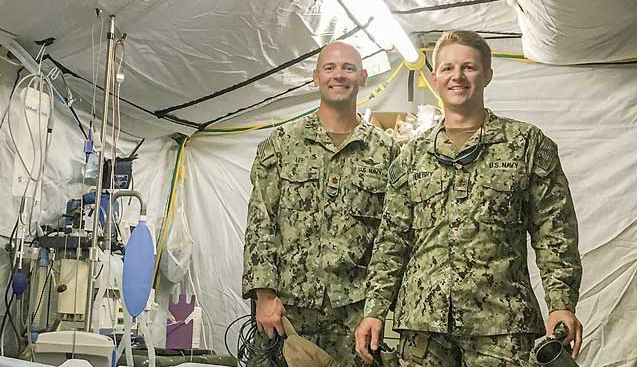 When Andrew Henebry (above, right) reported for duty at the U.S. Navy EMU Surgical Unit near Mosul, Iraq a few weeks ago, he was surprised to be greeted by former McIntosh classmate Michael Lee (above, left), who was completing his deployment.
They spent about a week together while the new surgical team was briefed on local duties and responsibilities. During that time, they caught up on the whereabouts of former classmates and other news from home. Michael and his team then headed back to their stateside assignment.
Andrew and Michael graduated with the class of 2001. Both of them were interested in the medical field, so when Andrew injured his knee that summer, Michael asked if he could watch the surgical procedure. His orthopedic surgeon arranged for Michael to observe Andrew's ACL reconstruction in the operating room.
That surgery helped both young men think seriously about what they wanted to do with the rest of their lives.
Subsequently, Andrew went on to earn a degree in mechanical engineering at Notre Dame, while Michael earned a degree in pre-med at Northwestern. Andrew then graduated from the Emory University School of Medicine and completed his residency in Orthopedic Surgery. Michael received his M.D. from the F. Edward Hébert School of Medicine and completed his residency in Anesthesiology.
Both men now serve as lieutenant commanders in the U.S Navy Medical Corps. — Written by Joe Henebry.