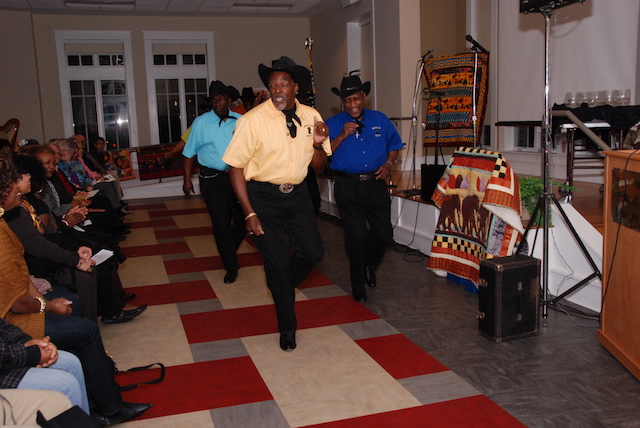 The Fayette County Public Library and the Friends of the Fayette County Public Library welcome the community to the 18th Annual Blended Heritage Celebration, a free evening of performing arts entertainment scheduled for Friday, Feb. 26, at 7 p.m. at the library. It is open to all, free of charge.
The theme of this year's program is "Welcome to the Fireside." The evening's lineup includes some favorites from years past, as well as an electrifying assortment of new talent.
In keeping with tradition, the show kicks off with Collin Kelley's reading of his original theme poem written specially for the occasion. Vocal and instrumental music are well represented this year by Kelly Goodson, Robert Adams, the duo Bud Jones & Hank Hobson, and a youthful band called No Solution.
Poet Hank Stewart will perform some of his spoken word artistry, and laughter is inevitable when Jon Kohler and Barry Stoltze invoke the memory of Abbott and Costello in a classic piece of comedy. Atlanta Tap Project is set to deliver their crowd-pleasing style of dance, and Arthur Atsma and Dewayne Reynolds will remind us all that you're never too old for a little magic.
Photographs by members of the Fayette Photographic Society will be on display.
Seating is limited and available on a first-come, first-served basis.
Presented every February since 1999, the Blended Heritage Celebration at the Fayette County Public Library has become a true community tradition, and a night of fun and inspiration that is not to be missed. Complimentary refreshments will be served after the performance, catered by A Touch of New Orleans.
This free community event is made possible by generous support from the Fayette County Board of Commissioners, and from the Friends of the Fayette County Public Library, a membership volunteer organization that raises funds to assist with library programs and services throughout the year.
The Fayette County Public Library is located behind the Fayette County administrative complex in downtown Fayetteville, at the southwest corner of Highways 85 and 54. For additional information, please contact the library at 770-461-8841.
Pictured above are members of The Beulah Boys line dance troupe, a real crowd-pleaser at the 2015 event.