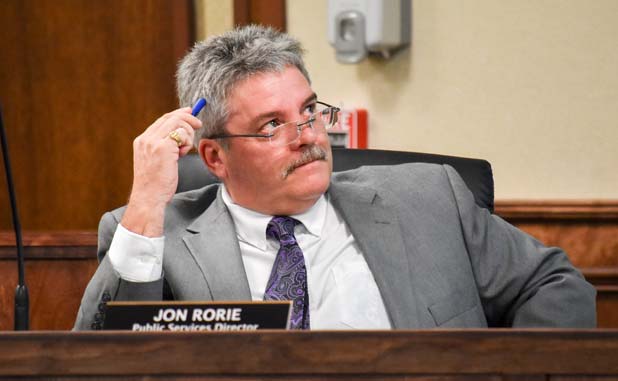 What about the 2-decades-old pledge to restrict expansion to inside PTC?
Here's a question. Should Peachtree City, or more appropriately the Peachtree City Water and Sewerage Authority (WASA), break with history — and a now nearly 20-year-old pledge — and sell sewer outside the city limits?
The kicker is this economic truism: Wherever a sewer line goes, high-density development — both residential and commercial — soon follows that pipe.
That question is now on the table and deals with the potential to sell Tyrone 350,000 gallons per day of sewer capacity out of the 6 million GPD total WASA capacity.
City Manager Jon Rorie in the proposal at the Jan. 7 Peachtree City Council meeting asked council members to consider authorizing WASA to extend sewer to Tyrone with a maximum capacity of 350,000 gallons per day.
Rorie said WASA has a 6 million gallon per day capacity and is currently using 3.1 million gallons per day.
An unspoken part of the issue is the pledge made by city officials when the city underwrote the purchase of then-privately-owned Georgia Utilities in the late 1990s to prohibit any sewer extension outside the city limits in the interests of limiting high-density development on the city's borders.
A previous council already has turned down a proposal from neighboring Senoia to hook up to the city system.
Rorie noted a number of issues both pro and con which might be associated with providing 350,000 gallons of sewer to Tyrone.
Among the pros are that it would establish a long-term agreement, increase sewer plant efficiency, stabilize the rate structure, provide a means to throttle the growth of the northern gateway to Peachtree City, transfer traffic to downtown Tyrone, aid in planning between the two municipalities in terms of quality of life issues and replace the $450,000 loss of sewer revenues when Photo Circuits closed.
Among the cons are the establishment of a long-term agreement, the addition of density, the criteria that the Peachtree City Land Use Plan does not apply outside city limits, diminished zoning control, the allocation of sewer to commercial and residential areas is a Tyrone decision, reduced Peachtree City capacity and future demand in Peachtree City.
Tyrone, with a population of 7,000, has 250,000 gallons capacity from Fairburn/Fulton County. That contract expires in 2019. The areas in Tyrone currently on sewer include the Southampton Village Shopping Center, Southampton subdivision, a second John Wieland subdivision on Hwy. 74 North, the new Fayette County fire station at Hwy. 74 and Jenkins Road along with Sandy Creek High, Flat Rock Middle and Burch Elementary, all on Jenkins Road.
Peachtree City today has a population of approximately 34,000. Projections, including the establishment of the West Village area along MacDuff Parkway, will bring the city population to approximately 43,000 at build-out, Rorie said while noting the low expectation of any major annexations in future.
The addition of Wilksmoor Village on the city's west side will add another 1 million gallons per day to the current 3.1 million. That total of 4.1 million gallons per day, and the addition of 350,000 gallons per day to Tyrone, would result in a total of 4.45 million gallons per day of sewer usage, leaving a remaining capacity surplus of 1.5 million gallons per day.
In terms of water usage, WASA increased the number of customers from 8,688 in 1998 to more than 10,600 in 2015. Yet actual water usage during those years decreased from 105 million gallons in October 1998 to just over 80 million gallons in October 2015.
Rorie said efficiencies such as low-flow devices have contributed to decreased water usage even though the number of customers has increased.
Rorie noted that more than half of his personal water bill goes to paying down the bond debt used to construct the sewer system.
The presentation was intended to be a initial discussion, Rorie said, adding that a WASA representative will make a presentation at the Jan. 21 council meeting.
Though requests have been made in the past, WASA to date and with one minor exception has not ventured outside the city limits. The exception deals with Dogwood Church on Ga. Highway 74 North where a portion of the church property is located in Tyrone. Sewer at that location is sufficiently far enough away from other properties that it can not be accessed by other potential users.
The next phase of the discussion is expected on Jan. 21 with a WASA presentation on the issue. It is not known how many meetings will be needed before a decision, of any, will be made.