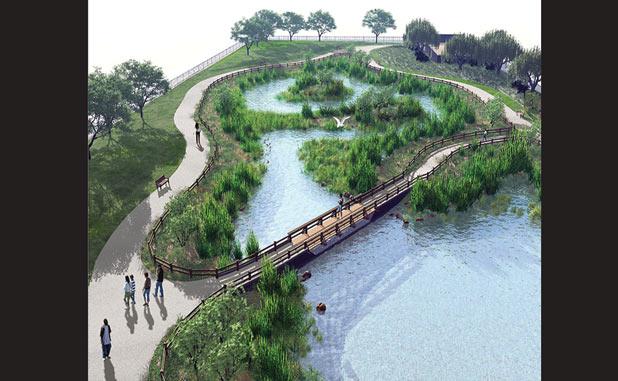 The Peachtree City Council on Dec. 3 in was described as a housekeeping issue approved the construction plans for the stormwater detention and wetlands amenity for The Overlook retail center. The stormwater detention amenity will be located in the Line Creek Nature Area.
Though The Overlook development agreement was previously approved, City Manager Jon Rorie recommended and received unanimous approval for the construction plans required to install the detention and wetlands amenity on the city-owned Line Creek Nature Area situated adjacent to The Overlook property on Ga. Highway 54 West.
"We're coming to the end of the staff's role," said Rorie, noting that the development agreement had been previously approved by the council. "This is basically a housekeeping issue."
The wetlands amenity area will be established on city property in the Line Creek Nature Area through a Memorandum of Understanding between Trinity-Overlook LLC and Southern Conservation Trust (SCT).
Among the features of the wetland amenity will be various standing pools of water in an area of approximately one-acre, perimeter fencing and a boardwalk over a portion of the pond area. The idea behind the initiative is to clean the runoff before it travels downstream and to provide a habitat for various species of aquatic wildlife and plants and to attract fowl to the area, according to earlier reports.
With access to the amenity provided to visitors to the area, it will provide yet another facet to the often-used Line Creek Nature Area accessible on Hwy. 54 West, SCT representatives said.
In terms of cost, the underground detention pond would run $691,000. The total cost of constructing the wetlands amenity area would run $575,000. Beyond that, Trinity Development, developer of The Overlook, will provide SCT with $100,000 and will maintain the wetland amenity perpetually.