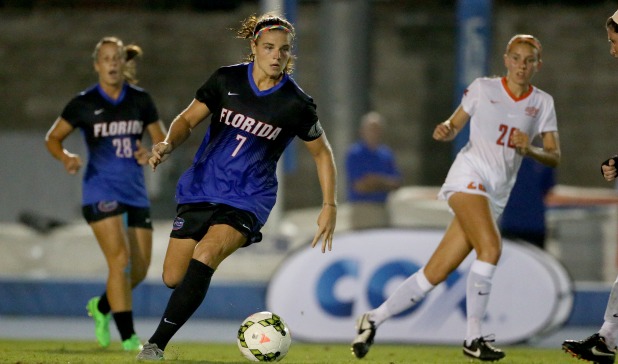 Savannah Jordan, a Whitewater High graduate, has been named a first-team All-American by the National Soccer Coaches Association of America. The squad was announced last week.
A forward for the Florida Gators, Jordan has been named to the second team each of her two previous seasons, making her the first Gator to claim NSCAA All-America honors in each of her first three collegiate seasons, according to school officials.
Florida placed a total of three players on the All-America team.
Jordan also was named Southeastern Conference Offensive Player of the Year for the second time in three seasons, and All-SEC first team for the third straight year.
Her 24 goals and 55 total points led the SEC and were second-best in the nation.
She is in the top ten in Florida Gators history in four major areas: fourth in goals (65), sixth in points (148), tied for second in game-winning goals (18) and fourth in shots (342).
Jordan's 65 goals through the end of her junior year equals the total by former Gator star Abby Wambach, who most recently was one of the stars of the World Cup-winning U.S. women's team.
Only 14 players in NCAA history have scored 65 goals by the end of their junior year, and five since the 2000 season.
Jordan is one of 15 semifinalists in 2015 for the Missouri Athletic Club's Hermann Trophy, the most prestigious award in college soccer given each year to one male and one female. She was also a semifinalist in 2014. Another Fayette County native, Kelley O'Hara, won the award in 2009 while at Stanford.