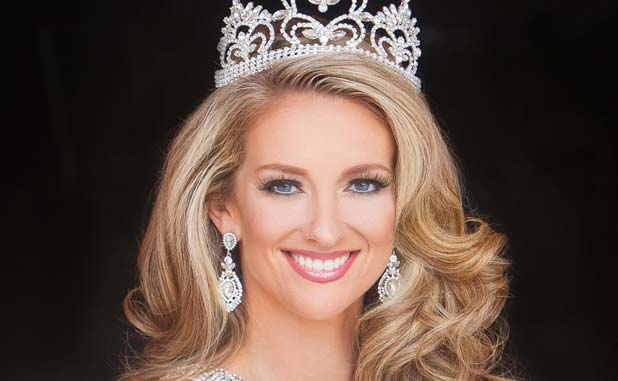 It has been a busy past few months for Laura Smith.
Actually, most of the past 17 years have been busy. The Peachtree City resident has been rearing and homeschooling seven children over that time, with three still under the age of 7.
But after a few years battling some debilitating injuries and illnesses that required several surgeries, she decided she needed something to get her going again in a big way.
"It was a really difficult, dark time," she said. "I told my husband, 'I have got to do something that will help me set a goal and pull myself out of this dark cloud.' One of the reasons I signed up for a pageant was to have a goal to get healthy."
The result of that drive was seen this summer, as Smith was crowned Mrs. Georgia in June and finished in the top six in the Mrs. America pageant in late September.
Her first pageant ever was a 2014 event in Orlando. She never did anything like this when she was younger. "I didn't have the confidence for it," she said.
The 38-year-old seems to have solved that problem. She took home the title at the state event and had an exceptional showing at the national competition, both of which typically crown a winner who is 10 years younger (the new Mrs. America is 27).
A Fayetteville native and graduate of Fayette County High School, she has been married 19 years to Chad Smith, who grew up in Peachtree City and graduated from McIntosh. They moved to Atlanta and New York briefly right after they married because of his career, but they found their way back in 1998.
"It's funny," said Chad. "We couldn't wait to get away from here, and once we had kids we couldn't wait to get back."
Now they have a 17-year-old who performs regionally in a band that has its own recording on iTunes, a 15-year-old fitness devotee/mandolin player, and a 12-year-old who has already started an acting/modeling career which includes his first film role in Atlanta. The remaining children – who are 8, 6, 4 and 3 – still keep Mom busy at home.
When Laura made the decision to compete, her family immediately rallied around her.
"My husband was super-supportive and knew I needed to do this," she said. "So he was willing to do whatever it took and get the kids to support Mom since she had been focused on them for so long."
Differing somewhat from Miss America, the Mrs. America pageant and its state affiliates focus largely on an interview with a group panel and a physical fitness component that is more than just a swimsuit parade. These proved to be ideal categories related to the fulfillment of Laura's goals.
After battling back from ailments that included neck surgery to repair an injured disk that caused her to lose mobility in her right arm, she now sees a positive side to her experience that can be shared with others. "I felt like I wanted a greater platform to be able to raise awareness and also be able to tell my story to encourage other women."
She does community service through Bloom in Fayette County and Wellspring Living in Union City. She described her pageant platform as "using arts as therapy to rebuild the lives of girls coming out of human trafficking."
Having already helped facilitate a new program with a dance academy in Tyrone where girls from Wellspring can participate, she has also identified an art teacher in the same area who is interested in getting involved. Her long-term goal is to raise money for affected girls to take these kinds of classes.
While a number of personal appearances come automatically with her state title, Laura has benefited greatly from social media exposure, and many opportunities have come from people who contacted her directly on Facebook. One of those is the chance to be a guest blogger on a ministry website.
The national pageant in Las Vegas was "a once-in-a-lifetime experience," she acknowledged. The event was broadcast live on the pageant's website and her children were able to watch it back in Georgia with their grandparents.
"I would say the greatest gift of all was the relationships that were built with the women I met there," she said. "These are truly amazing women from all over the country with all kinds of stories and platforms. It was truly a gift to get to know them, and we are keeping in contact with one another."
To learn more or contact her, search Facebook for "Mrs Georgia America 2015 — Laura Smith."
Below, the Smith family. Photo/Mike Colletta Photography.