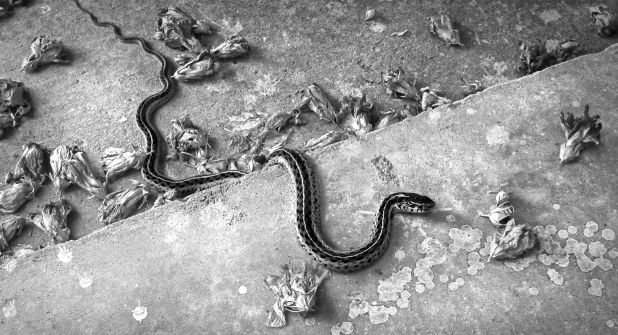 Donna Rosser, a Fayette County resident and art photographer, is busy framing, printing, emailing, and packing photographs for a variety of exhibits and opportunities. Her image "E Left the Building" is part of SlowExposures, a nationally recognized photography festival in Pike County every third weekend in September. This photo is part of a series shot last March in Brunswick at the Georgia Elvis Festival. Next month she is part of a panel on southern icons presenting at the Popular Culture Association/American Culture Association in the South conference in Wilmington, North Carolina; Rosser will present the Elvis series with a personal essay of the experience.
Opening Oct. 2 at Columbus State University's Rankin Arts Photography Center is her solo exhibit, "Morning Walk." This series depicts scenes from morning walks with friends in Peachtree City. Along with this series are two subseries; "East Beach," photos from St. Simons and "Where the Water Used To Be," a visual essay of nature reclaiming Lake Peachtree. She will give an artist talk at the reception for this work Oct. 9 from 6-8 p.m. The exhibit closes Oct. 31.
Rosser also has an image from St. Simons Island in the year-long traveling exhibit, TPS 24. This exhibit by the Texas Photography Society is showing in San Antonio during September before moving to its next Texas location. Another one of her photographs is in an exhibit at A. Smith Gallery in Johnson City, Texas.
"Serendipity," her iconic image of a garter snake taken at her Fayette County home, is on display in "Director's Cut" at the Atlanta Photography Group Gallery through Oct. 3 and will be featured in a photography book curated by Elizabeth Avedon through the Detroit Center for Contemporary Photography due out this fall.
She is busy readying the images for the solo exhibit in Columbus and another new image, never shown before, for "Illuminate," a group show at The Center for Fine Art Photography in Fort Collins, Colorado opening in December.
"It is one of my favorite photographs taken this year. I love the Rolling Stones and enjoyed seeing them in Atlanta last June. The image in the show was taken at the concert showing Mick Jagger on the large screens with the entire band on stage. I shot it with my iPhone."
Rosser teaches photography locally at Turnipseed Farms, taking a few private students at a time. Her photos can be found on her blog and website, thebarefootphotographer.com.