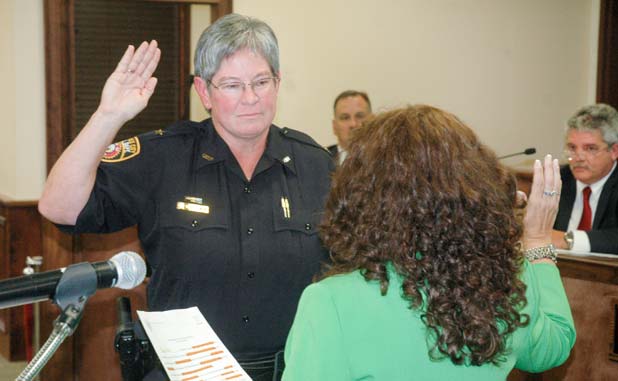 Peachtree City Police Chief Janet Moon took the oath of office on Aug. 20 as family and friends from her three decades in law enforcement looked on. Moon during her comments offered a glimpse of some things that may be in the offing in the future.
Moon was sworn-in by Mayor Vanessa Fleisch at the outset of the City Council meeting with members of her family and former law enforcement co-workers from Rome and Suwanee in attendance.
Moon spoke later in the meeting and began her remarks by reiterating her belief in community policing.
"(Community policing) is community partnership and problem-solving. Without problem-solving you have community relations," Moon said recently.
Moon at the meeting said she sees the opportunity for the community to be positively impacted by community policing initiatives.
And while Moon maintained her original posture of making no significant changes in the department during her first several months on the job, the new chief in citing an example of community policing noted that, in the future, an officer might be assigned to a homeowners association.
Moon also said the department needs to implement a succession planning program for officers so "they can take my place and the (city) won't have to go outside" to hire the next chief.
Moon said she plans to review the department's bureaucratic processes.
"Complaints should be handled more quickly and streamlined to get back with citizens," she said, noting the need to re-establish communication with the citizen who initiates the complaint or concern.
Addressing the many officers in the room, Moon in an apparent reference to the issues with former Chief William McCollom said, "Looking out of the rear view mirror is gone. We're looking forward, not backward. We will rebuild every bit of trust that's been eroded."
At the close of her brief remarks and aside from the future possibilities she mentioned, Moon said she continues to be in a "wait, see and listen mode."
Moon arrived in Peachtree City with a 30-year history in law enforcement and four years in the U.S. Army Military Police Force. She served 12 years in the Rome Police Department before moving to the Suwanee Police Department in 2001 and was promoted to Deputy Chief in 2006.