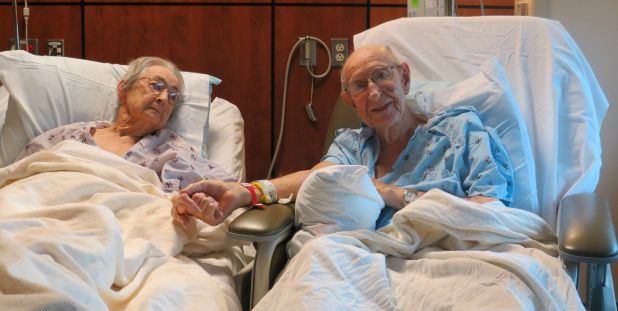 Fayetteville residents Tom and Arnisteen Clark were patients at Piedmont Fayette Hospital recently and Tom, 96, had a request: he wanted to see his wife.
Tom, an Army veteran, and his wife of 68 years were receiving care in separate rooms and this was the first time they had been apart since he was stationed in Korea during the war.
The nursing staff on the fourth floor wanted to be able to reunite the couple during their stay but because all of the rooms on the fourth floor, an orthopedic unit, are private rooms it is against state regulations to treat two patients permanently in a designated private room. However, since patients in a private room can have visitors, the clinical staff found a way for Tom to visit with Arnisteen during the remainder of their stay.
Tina Mann, Manager, RN, Orthopedics Medical-Surgical 4, with help from the clinical staff, went above and beyond to make a special arrangement for Tom to have extended visits with his wife in her room each day. Overcome with joy, Tom wept as he described the deep love he has for Arnisteen, 92. "I just can't be away from her, she's the finest woman in the world."
Piedmont Fayette shared the heartwarming story on their Facebook page last Thursday, hoping for a few shares and likes from the people who followed the page. It went much further than that.
By Friday morning, the post had close to 12,000 likes, over 1,000 comments and nearly 1,500 shares. Local media outlets picked it up and started sharing it on their websites and Facebook pages. Soon, media networks were taking it and sharing it with their affiliates. The story went north to New York and Boston and west to Los Angeles and Oregon.
It went national. Good Morning America, People, Headline News, Huffington Post, Fox News, USA Today and more began sharing the story, giving their readers a little good news to end their week.
Over the weekend, it went worldwide. Readers in Brazil, England, Ireland and Australia got the news and it even went as far as Malaysia. Some stories were referring to the couple and their story as a "Real-Life Notebook," comparing the Clark's long-lasting love story to the Nicholas Sparks novel and film.
"We are so grateful that these media outlets could help us shine a great spotlight our caregivers who strive to provide high quality, compassionate care every day … along with some heartfelt resourcefulness," said Piedmont Fayette CEO Michael Burnett. "This is a piece of good news that resonated with many people around the world and we are proud to be a part of the Clarks' amazing love story."
The Clarks were discharged from Piedmont Fayette on Friday and the entire staff of the hospital is rooting for a speedy recovery for both Tom and Arnisteen and many more happy years together.