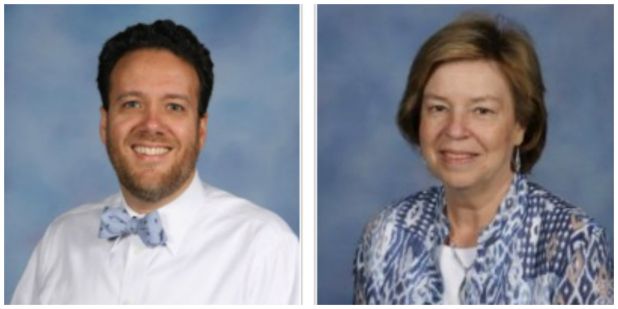 Two Rising Starr Middle educators are getting ready to walk the red carpet, having been nominated by members of the Academy of Education Arts and Sciences to potentially receive a 2015 Bammy Award in their respective categories.
The Academy has announced that principal Nancy Blair is one of five nominees in the "Middle School Principals" category, and media specialist Christopher Harper is one of five nominees in the "School Librarians" category. Only one nominee in each category will receive a Bammy; award recipients will be announced at the 2015 Annual Bammy Awards, a red carpet event taking place in Washington, D.C. on September 26.
Presented by the Academy of Education Arts and Sciences, the Bammy Awards feature two types of honors: Educator's Voice Awards (a public popularity vote, think Peoples Choice Awards), and the Bammy (a categorical nomination from members of the Academy, similar to the Academy Awards).
Both Blair and Harper started out as nominees in the Educator's Voice Awards. The number of online community votes and reviews caught the attention of Academy members who decided to upgrade them to an Academy nomination, making both eligible for a Bammy Award.
Reviews written about Blair include: "Ms. Blair is innovative, knowledgeable, and always willing to share ideas and resources. She encourages her teachers to try new, innovative things and supports them in their endeavors;" "Nancy exemplifies what it means to be a 21st century teacher. I enjoy participating in chats with her because she always seems to know how to elevate the conversation to get people thinking on a higher level;" and "Of all the descriptors above, I would say she is an innovator. She realizes what it takes to educate students in the 21st century, and she is definitely a role model in this department. She is one amazing woman."
Reviews written about Harper include: "He is an innovator and has a passion for teaching. The students thrive under his watch and creativity. He is very deserving of this honor;" "Mr. Harper does a great job in preparing his students for high school. He is especially awesome with technology and provides a great support to teachers and students alike;" and "Christopher goes above and beyond to make sure our students and educators have the resources needed for our school community to compete with other schools globally. He is an excellent example to our students as well as other educators in our building."
The Bammy Awards is a cross-discipline award that identifies and acknowledges the good work being done all across the education community. Members of the Academy of Education Arts and Sciences exclusively select nominees for the Bammy Award; nominations for the Educator's Voice Awards can be made by anyone. Academy members include leading educators, education professors, journalists, editors, researchers, commentators, advocates, activists, visionaries, and pioneers. Membership to the Academy is by invitation only. The Academy is comprised of a board of governors, a council of peers, and the executive committee.