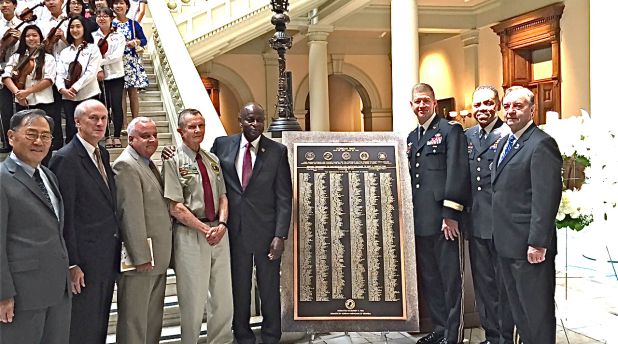 The America-Korea Friendship Society hosted a commemorative observance July 27 at the Rotunda in the Georgia State Capitol. It was the 62nd anniversary of the armistice of the Korean War.
The ceremony was to remember the 740 Georgians killed in the Korean War, and to honor all Korean War Veterans who reside in Georgia. Wreaths were laid by fellow Korean War Veterans, Korean Government officials, Korean-American Association of Greater Atlanta members, and the Atlanta Rotary Club.
Among attendees were Mr. Sunny Park, President, America Korea Friendship Society; Mr. Frank Blake, Retired Chairman, Home Depot; Commissioner Mike Roby, Georgia Department of Veterans Service; Colonel (Retired) Ben Malcom, 2014 Inductee, Georgia Military Veterans' Hall of Fame & Korean War Veteran; General (Retired) Larry Ellis, Chair, American Korea Friendship Society; Brigadier General Joseph Jarrad, Adjutant General, Georgia; Brigadier General David Turner, Commander, South Atlantic Division, Army Corps of Engineers; and Colonel (Retired) Rick White, Chairman of the Broad, Georgia Military Veterans' Hall of Fame.
The Hope Johns Creek Korean American Youth Orchestra provided musical interludes.