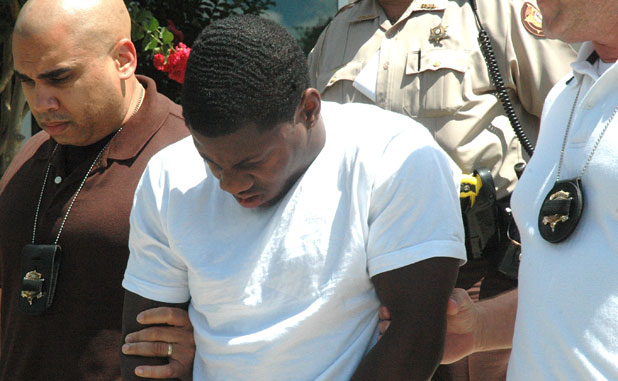 (RELATED STORY) Sheriff stops another big party from happening
The owner of the north Fayette County home where Stockbridge resident Wali Clanton was murdered after a June 13 pool party has been charged with a misdemeanor and cited for a county ordinance violation while the man who paid to have the pool party was cited with violation for charging party-goers a fee to attend.
The homeowner told investigators that more than 400 people were on her property by 11:30 p.m. when she ended the party.
Stacey Grant Williams, owner of the home at 647 Ga. Highway 279, was charged with misdemeanor disorderly house as a result of the homicide investigation involving 19-year-old Stockbridge resident Wali Clanton, according to Sheriff Barry Babb.
Williams was also cited for violating a county ordinance that prohibits charging a fee for an event at a single-family residence, according to the June 25 incident report.
Also charged with the county ordinance violation for charging a fee to attend the party at a single-family residence was Fayette County resident and SB Productions co-founder Marqus A. Woods, according to reports.
Atlanta resident Terrence Kyreef Montgomery, Jr., 18, was arrested June 19 for fatally shooting Clanton and for non-life-threatening gunshot injuries to four others who attended the June 13 pool party at the north Fayette residence.
Incident reports pertaining to the June 13 party stated that Williams had contracted with SB Productions co-founder Marqus Woods to receive $300 for the use of the property. The contract stated that there would be approximately 500 participants, according to the incident report.
Williams was told by investigators that the written contract with Woods and SB Productions was not a Fayette County-approved contract, the incident report said.
Williams told investigators she returned home at approximately 10:30 p.m. and counted 200 people at her home, adding that an hour later she counted more than 400 people and decided it was time to shut the party down, the report said.
Contacted at his Fayette County home, Woods admitted that he was in charge of the party and that he entered into a contact with Williams, the incident report said.
Woods also acknowledged that he paid Williams $300 for the use of her home. Woods also admitted that he charged $10 at the door and that he made approximately $1,500 from party-goers, according to the incident report.
Fayette County ordinances state that a single-family residence cannot be used to make money by charging a fee or by receiving donations.
Montgomery was charged with felony murder, malice murder, four counts of aggravated assault and possession of a firearm by a convicted felon, according to Babb.
Montgomery was arrested without incident on June 19 by members of the U.S. Marshals Southeast Regional Task Force after warrants were executed at a residence in Atlanta, said Babb.