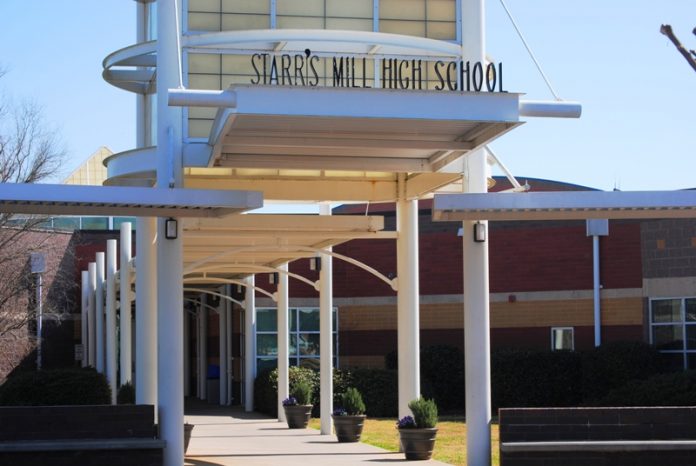 Starr's Mill High School has won the Georgia Athletic Directors Association's top award for the best all-around sports program in its state classification.
The Region Director's Cup goes to the school in each classification with the most points tallied from its performance in various sports throughout the school year. Starr's Mill was the state overall winner in AAAAA, as well as finishing first in the girls' rankings and second in the boys' standings.
McIntosh finished fourth overall, sixth in boys and fifth in girls.
The second and third spots in the overall standings went to a pair of schools on the north side of Atlanta – Allatoona High in Acworth and Cambridge High in Milton. Allatoona topped the boys' standings.
Starr's Mill took the overall crown by placing in the top 10 in the state in a dozen different sports. The Lady Panthers won state titles in and soccer, while both tennis teams finished second.
The school was second in girls' cross-country, third in boys' cross-country, fourth in boys' golf, sixth in girls' track, seventh in boys' track, seventh in girls' swimming, ninth in boys' swimming and a quarterfinalist in boys' lacrosse.
The Panthers also tallied points in boys soccer, wrestling, football, baseball and volleyball.
This is the first time Starr's Mill has won the Director's Cup after coming in second in the past and topping either the boys' or girls' ranking on various occasions.
"This is an honor for the entire athletic program as it requires success in numerous boys and girls sports simultaneously," said Starr's Mill athletic director Allen Leonard, who is transferring to the principal's desk at the school for the coming year.
"This has been an exceptionally successful year and it could not have been done without the hard work of all of our coaches, staff, student-athletes, teachers, booster clubs, and administration. This is an honor for the entire school and something everyone involved in Starr's Mill can share. Thank you for all you do for our students and programs."
McIntosh finished in the state's top 10 in seven sports: coed cheerleading (second), boys' swimming (fifth), girls' cross-country (seventh), boys' golf (eighth), boys' lacrosse (quarterfinals), girls' lacrosse (quarterfinals) and boys' soccer (quarterfinals). Points were recorded in girls' soccer, volleyball, wrestling, basketball, tennis and track.
At the AAAA level, Whitewater recorded a seventh-place overall finish and was eighth in both the boys' and girls' categories. The strongest team performances came this spring, as the Wildcats were second in the state in baseball, fourth in boys' track and a semifinalist in girls' soccer. The school was also third in cheerleading and fifth in boys' cross-country.
Sandy Creek came in 17th in the boys' rankings on the strength of a state championship in track, a quarterfinal appearance in football and a tenth-place finish at the state cross-country meet.
Complete rankings and point totals can be found at www.gadaonline.net.