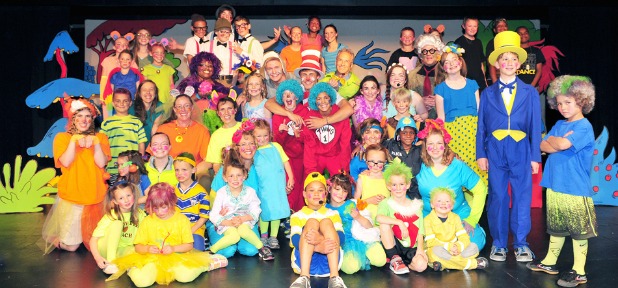 Random Acts of Theatre Company is presenting "Seussical the Musical Jr," June 5-6 at 7 p.m. at the McIntosh High School Auditorium. Tickets are $15/adults, $10/students and children.
Here is some more information about the show:
Come one and come all to a Seussical show!
You won't want to miss it, so get on the go!
A huge cast of characters of every size and age
Fayette's finest talent, all jammed on one stage.
We'll perform in the theater at McIntosh High School,
The new home of Whoville and the Jungle of Nool!
See Horton the Elephant, and the Sour Kangaroo
And The Cat in the Hat, and Thing 1 and Thing 2–
There's Yertle the Turtle and Red Fish and Blue,
And Mayzie LaBird–they can't wait to meet YOU!
"When is it?" you ask. "We hope that it's soon!"
You won't have to wait long — it's the first week of June!
It plays two days only, the 5th and the 6th
So get tickets now, 'cause they're selling out quick!
Fifteen bucks gets you in if you're women or men
Students and young Whos can get in for just ten.

Act now, get your tickets — make haste, don't delay!
Catch all your Seuss friends 'fore they all go away.
With music and dancing and lots of Seuss rhymes,
We guarantee you'll have a wonderful time.
The ticket line's open, so quick! Get your tix —
Call 678-304-8666.
Whether rectangle, triangle, circle, or square
Whatever shape you're in, we hope you'll be there!
Learn more about RATCO at www.randomactsoftheatreco.org.