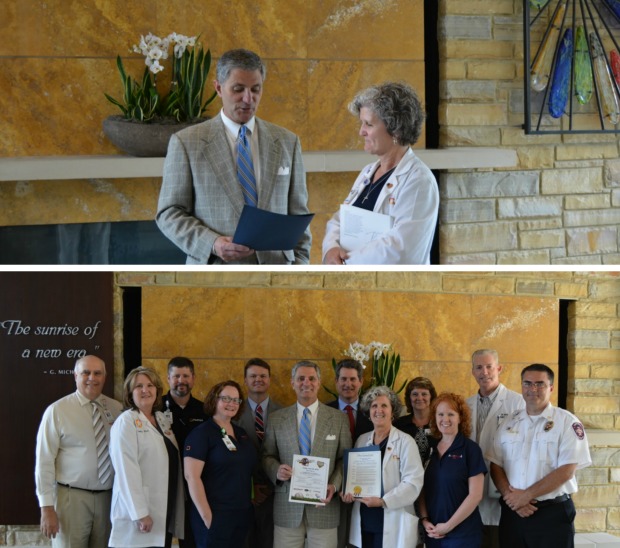 Newnan Mayor Keith Brady joined the Piedmont Newnan Hospital's Stroke Awareness team last week, proclaiming May to be Stroke Awareness and Prevention Month' in Newnan.
"I urge all residents to familiarize themselves with the warning signs, symptoms and risk factors associated with stroke so that we might begin to reduce the devastating effects stroke imposes on our state," Mayor Brady told stroke team members from Piedmont Newnan and HealthSouth Rehabilitation Hospital of Newnan, who team together to inform the public of the dangers of stroke.
"Stroke is now the fifth-leading cause of death but the #1 cause of disability. But the good news is that 80 percent of strokes are preventable," said Deborah Camp, Piedmont Newnan's Stroke Program manager.
"The aim of this proclamation is to inform everyone in the Newnan community, that they may be able to 'Save A Life' of a person experiencing a stroke and be an advocate for early stroke intervention by increasing their awareness about the signs and symptoms of stroke and its devastating effects," Mayor Brady read in his proclamation.
"Being able to prevent and recognize a stroke is extremely important. The residents need to know their risk factors, such as, high blood pressure, smoking, diabetes, obesity all of which can prevented. Receiving prompt treatment could be the difference in walking out of the hospital are being dependent upon someone to care for you for the rest of your life," Camp said.
The proclamation added that stroke leads to death and disability of more than 23,000 Georgia citizens each year costing an estimated $1.5 billion and stroke costs the United States an estimated $34 billion each year.
*