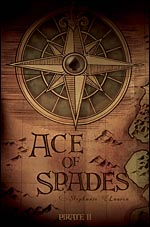 Author Stephanie Lauren, resident of Brooks, will sign copies of her book "Ace of Spades" Saturday, May 30, 1-3 p.m. at A Betterway Café in Peachtree City.
Captain Smith and the Black Dragons return to the high seas in this action-packed sequel to "Pirate the Unkindly Gentlemen." With crew member Ace's royal ties revealed to the Black Dragons, a new threat arises from his father, King Harold.
Unwilling to accept his son's new criminal lifestyle, Harold captures his son and forces him into complete isolation far from his crew in the capital city of Kirkston. While home at Caldara, Ace becomes victim to a rare poison. Soon the entire royal family begins suffering similar symptoms.
Captain Smith and his crew must race against time to save their friend and to save the monarchy from a similar fate. On their quest, the Black Dragons must travel through dangerous, pirate-infested waters to locate the poison's rare cure, the Akito berry, team up with a mysterious face from Ace's past, and uncover the truth behind the poisonings of the royal family. Captain Smith must risk everything to save Ace, which may result in the Black Dragons losing both their ship and another crew member.
Trust is everything when the Black Dragons begin to discover more dark and twisted secrets about their newer members, siblings Stewart and Gwenyfar. That lack of trust may very well prove to be their undoing.
Join Captain Smith and the Black Dragons in this unforgettable tale and discover the true meaning behind the Ace of Spades.
*