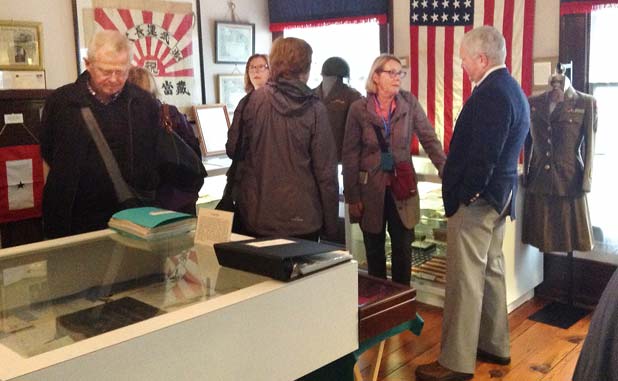 Visitors to the Holliday-Dorsey-Fife House Museum in Fayetteville are a common occurrence. What was a bit different on April 16 was a visit by 20 members of the Australians Studying Abroad (ASA) Southern Literary Charm tour group.
New director Nicole Gilbert said the museum on April 16 hosted more than 20 individuals from "down under" as part of the ASA tour.
"Local historian and museum assistant John Lynch met the group in Jonesboro where he began a driving tour down Old Tara Road that terminated in historic downtown Fayetteville," said Gilbert. "They arrived at the Holliday-Dorsey-Fife House Museum to find the museum bustling with docents and volunteers in period costumes to greet and guide them through the various historical exhibits."
Gilbert said local author Victoria Wilcox gave a short introductory talk in the family room and was then presented with the book, "Happily Ever After: Celebrating Jane Austen's Pride and Prejudice," authored by the Australian group's leader, Susannah Fullerton.
As a parting gift, the museum gave everyone a praline, Gilbert said, adding that the group plans to come again next year.
"This has been the highlight of our trip," said Fullerton. "This was a major compliment considering the ASA group arrived on April 6 and visited Savannah, Macon, Columbus and Atlanta before visiting the Holliday-Dorsey-Fife House Museum."
ASA was founded in 1977 by Christopher Wood, who wanted to extend learning beyond the classroom. He originally led small groups of university students to Europe on their breaks but expanded to the general public in the 1980s. ASA was recognized as a major educational organization in the 1980s. ASA strives to broaden one's understanding of history.
The Holliday Dorsey Fife House is a Georgian House in the Greek Revival Style built in 1855. In an effort to save the house from demolition, the house was rehabilitated and converted to a museum dedicated to the history of Fayette County and its residents in 2003.
Named for the three prominent families who lived in the house, the museum is located off the Fayetteville square at 140 West Lanier Avenue and is open Monday, Tuesday, Thursday and Saturday from 10 a.m. until 3 p.m. with extended hours on Friday until 5 p.m.