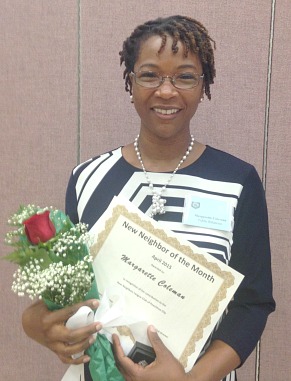 The Peachtree City Chapter of the New Neighbors League Club (NNLC) names Margarette Coleman as the New Neighbor of the Month for April.
Coleman joined NNLC in July 2013 and is a very active woman. She is always on the go and involving herself in many different activities.
She is a native of Atlanta, but has lived in many places. She attended high school in Alaska, college in California and most recently worked in Derby, Kansas. Her background is in Social Work, so it's no wonder she is always lending a helping hand to others.
Coleman is married to Anthony, a pilot for FedEx. She has two wonderful teenage twins Aidan and Nadia. She also has a temporary son, Joris, who is an exchange student from Germany and living with the family while in the U.S.
As a member of New Neighbors League, Coleman has been very active and has always been an inspiration to many. She has served on the Executive Board as 1st vice president, president and currently holds the position of public relations. She has always done a wonderful job in what ever her task.
She often participates in Pokeno, Bunko, Let's Go Shopping, Luncheons, International Group, and Socials, just to name a few.
She also will be hosting Fun and Friendship this month in her beautiful home. Outside of the club she is an avid tennis player and belongs to a local league.
NNLC's purpose is to bring newcomers to the area together, so that they may meet and become friends, while adjusting to new surroundings. It is a not-for-profit social organization that offers a wide variety of special interest groups.
Fayette/Coweta county area residents who would like more information about NNLC, should contact Carol Jensen-Linton at 770-486-9116 or visit the website, www.newneighborsptc.com.