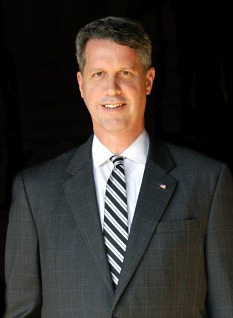 ACCG Executive Director Ross King, a Fayetteville resident, was recently elected by his peers to serve as third vice president of the National Council of County Association Executives (NCCAE).
King, who has served as executive director of Georgia's county association since May 2010, is recognized as an innovator and a strategic thinker who leads one of the most diverse county associations in the country.
"There is no higher honor than to be selected for a leadership position by your peers," King said. "This appointment reflects the continued support and vision from the ACCG Board of Managers to promote organizational excellence and continuously improve and expand our programs."
NCCAE is the county association for the mangers of all 47 states in the nation that have state associations for counties. It provides a forum for county association executives to come together for continuing education, program assessment, policy development, association management best practices and networking.
King is recognized for completing the Certified County Association Executives Program which is offered in partnership with NCCAE and Cornell University. He has served as the chairman of the association's Non-Dues Revenue Committee for the last two years. This leadership appointment moves him into a position on the association's executive committee and will lead him to the position of president in 2017.
"I've had the opportunity to travel nationally with Ross and have seen first-hand the respect that he receives from his peers at other county associations as a result of the work that ACCG does on behalf of Georgia counties," said ACCG President and Walton County Chairman Kevin Little. "We are so pleased that he will have the opportunity to serve in this prestigious national leadership position."
ACCG is Georgia's county association and works on behalf of county officials and their communities by providing public policy and legislative advocacy, leadership development, civic and community engagement initiatives, insurance and retirement programs that specialize in local government needs and other cost-saving programs.
For more information, go to www.accg.org.