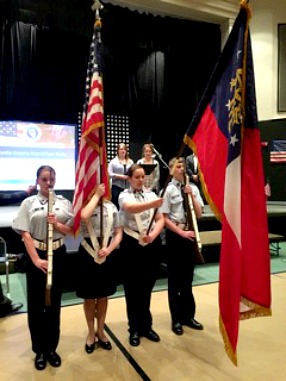 Peachtree City Falcon Field Composite Squadron's Color Guard, recently presented the Colors at the Fayette County Republican Party Convention.
Participating were (shown above, L to R) Airman Frances Adlam, CMSgt. Chelsea Larson, CMSgt. Jordan Kasulas, and CMSgt. Wilson Geldbach.
The Color Guard is a way to demonstrate their dedication and service to the Civil Air Patrol (CAP). Members of GA-116 Color Guard have opportunities to be of service for community events, for example, honoring veterans at Wreaths Across America, 4th of July parade, Peachtree City Memorial Day program, Great Georgia Air Show, just to name a few. Dedication and commitment along with the discipline of drill and ceremonies present a team worthy of presenting the Nation's and State's colors. The color guard performs free of charge.
Peachtree City Falcon Field Composite Squadron meets every Thursday at 6:30 p.m. at United Methodist Church, 225 Robinson Road, Peachtree City. Ages 12 and up are welcome to join. Find out more about GA-116 at www.GA116.org or find them on Facebook.
Civil Air Patrol, the official auxiliary of the U.S. Air Force, is a nonprofit organization with 58,000 members nationwide, operating a fleet of 550 aircraft. CAP, in its Air Force auxiliary role, performs about 85 percent of continental U.S. inland search and rescue missions as tasked by the Air Force Rescue Coordination Center and is credited by the AFRCC with saving an average of 70 lives annually.
Its unpaid professionals also perform homeland security, disaster relief and drug interdiction missions at the request of federal, state and local agencies.
The members play a leading role in aerospace education and serve as mentors to more than 24,000 young people currently participating in the CAP cadet programs. Performing missions for America for the past 73 years, CAP received the Congressional Gold Medal in 2014 in honor of the heroic efforts of its World War II veterans. CAP also participates in Wreaths Across America, an initiative to remember, honor and teach about the sacrifices of U.S. military veterans. Visit www.capvolunteernow.com for more information.