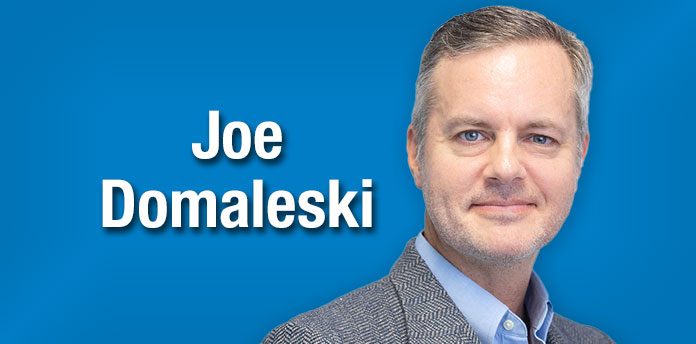 It seems a bit ironic that I would write a column about handling stress, especially when I grapple with it myself. Over the years, running a small marketing agency has taught me that the holiday season, while filled with festive cheer and holiday excitement, can also bring its own set of challenges. Balancing client demands, ensuring the team is in high spirits, and dealing with the personal pressures the season sometimes brings, has been a learning journey. Recently, I found myself confronting the "double whammy" of two particularly stressful situations that, admittedly, got the better of me.
In the first situation, a long-time client lied to me. Because I tend to be a trusting person, I couldn't see the situation for what it was and had to get an outside perspective. "Yes Joe, they lied to you and they did so probably because they didn't have the heart to handle the situation with you directly," said my trusted advisor. I kept playing back the situation in my head thinking I had done something wrong or was misreading something. What made the situation more awkward was the fact that some others in the community that I trusted, played along with the deception. Instead of just letting it go, I held on to the situation and stewed over it in my head.
During the same time frame, I had to handle the dismissal of an under-performing team member. We have great employees and in our twenty year history have rarely had to let anyone go. It's in my nature to seek the best in others, which sometimes blinds me to reality. In this case, we had to make a change after multiple attempts to make things better. Terminating someone's employment is always a stressful and disheartening task.
Specific sources of stress we face as a small marketing agency include:
High Client Expectations: Although we pride ourselves on high quality creative services, some clients have expectations that rival those for larger agencies who are operating with bigger budgets.
Tight Deadlines: I don't think this is unique to our industry or firm – society is impatient. While quality takes time, most people don't want to wait which puts pressure on deadlines. We tend to move much quicker than industry averages but that can sometimes create unrealistic expectations.
Diverse Skill Demands: Even though we're larger than many other local marketing firms, we're still a small company. Our employees often wear multiple hats, which can be both rewarding and stressful, especially if they're stepping into unfamiliar territory. We try really hard to keep business local with local employees – which bucks the trend of outsourcing things overseas.
Client Dependency: We love all of our clients – large and small. Relying heavily on a few clients for revenue is stressful, as losing just one client can have a significant financial impact. For those of you running organizations with large contracts or grants, you know exactly what I'm talking about.
Financial Pressures: Managing budgets, ensuring positive cash flow, and dealing with the uncertainties of fluctuating income can be a source of ongoing stress. Probably the biggest challenge facing our business is accounts receivable. The business is coming in, but getting paid for our work is sometimes a challenge.
Keeping Up with Trends: The fast-paced nature of marketing, with ever-evolving digital platforms and consumer behaviors, means we must continually adapt and learn.
Scaling Challenges: We've struggled with this as do most businesses that are growing. Hiring the right talent, expanding our client base, and remaining true to our hometown base is not easy.
Client Communication: Again, not unique to my company but managing client expectations, handling feedback, or dealing with difficult clients can be challenging and stressful.
Dealing with Rejection: Rejection is an inherent part of our industry. Whether it's a pitch that didn't win a client over, a campaign idea that was turned down, or a proposal that didn't secure funding, rejection is disheartening and it's hard not to take it personally. For small agencies like mine, where every potential client and project can be crucial for growth and sustainability, these rejections can feel even more personal and impactful.
In preparation for the forthcoming holiday season, we dedicated our October company-wide meeting to health, wellness, and specifically, stress management. We conducted our session at Sweet Tea Yoga in Peachtree City. Guided by the expertise of instructor Tanya Dunne, our team engaged in a unique class tailored to enhance our well-being. Although I've attended similar Yoga classes myself, this is the first time I've participated in one with my co-workers. I highly recommend the shared experience as it shows team commitment to wellness.
Every business, indeed, every person has to contend with stress especially during the holiday season. Last year, I wrote an article entitled, "It's always darkest before the dawn", which identified some typical sources of holiday stress along with some general guidance on how to handle them. All of that guidance is still applicable, but for this article I want to focus specifically on keeping calm by letting things go.
In trying to deal with the stressful situations I mentioned above, I came to the realization that I was holding on to negative emotions too long. This self-awareness led me to the Parable of the Glass of Water, which illustrates the importance of letting go of life's stresses and worries.
In the story, a professor holds up a glass of water and asks her students how heavy they think it is. The answers vary, but the professor explains that the absolute weight doesn't matter. What matters is how long one holds onto it. Holding it for a minute is manageable, but holding it for hours will cause strain and pain, and holding it for days will paralyze one's arm. The same goes for our stresses and worries. Think of them as the glass of water. Hold onto them for a bit, and they're bearable. But if we carry them all day, they become burdensome, and holding onto them longer can weigh us down completely. The lesson is to let go of the stresses and not carry them for extended periods.
As leaders, we are often told to be strong pillars for our team, to exude confidence and surety in every decision, and to always be the guiding beacon. Yet, it's essential to recognize that we too are human, susceptible to the same stresses and strains as everyone else. The Parable of the Glass of Water is a gentle reminder that while challenges and setbacks are inevitable, how we choose to handle them determines their impact on our well-being and those around us. By learning to release these burdens promptly, we not only preserve our mental and emotional health but also foster a nurturing environment where our team feels supported and understood.
As we approach the holiday season, remember to keep calm, let go, and carry on. We got this!
[Joe Domaleski, a Fayette County resident for 25 years, is the owner of Country Fried Creative – an award-winning digital marketing agency located in Peachtree City. His company was the Fayette Chamber's 2021 Small Business of the Year.  Joe is a husband, father of three grown children, and proud Army veteran.  He has an MBA from Georgia State University and enjoys sharing his perspectives drawing from thirty years of business leadership experience. Sign up for the Country Fried Creative newsletter to get marketing and business articles directly in your inbox. ]