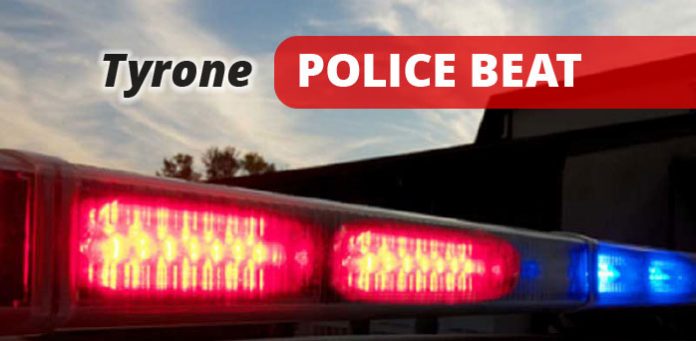 Three men are in custody after a drug arrest in Tyrone that began with a traffic stop.
Around 9 p.m. April 4, an officer noticed a vehicle on Hwy. 74 failing to maintain its lane, or weaving, according to a spokesman with the Tyrone Police Department. The driver then ran the red light at Dogwood Trail, after which the officer pulled the car over.
Walking up to the car window, the officer detected a strong odor of marijuana. After getting the driver and two passengers out of the vehicle, he conducted a search and found a variety of items, some quite illegal.
There was a bag in the rear center seat with some suspected marijuana, scales, and a mechanical device used by baristas and cake decorators to whip cream. That device is also used to inhale nitrous oxide, according to the police spokesman.
The other bag, also in the back seat, contained two bags of marijuana, rolling papers, lighters, and three prescription pills that were not in their original labeled bottle.
The driver of the car was Dion Jennings, 18, of Fayetteville. He acknowledged that the first bag was his but told officers he had no knowledge of the other one.
One of the passengers was Sedrieck Aldridge, 18, of Fairburn. He admitted that the other bag was his and the pills belonged to his sister.
The other passenger was Richard Powell, 19, of Fayetteville. He was found to have an outstanding warrant out of Fayette County for failure to appear.
Other charges against the trio include possession of drug-related objects, running a red light, possession of marijuana with intent, possession of non-labeled prescription drugs, and sale/distribution of dangerous drugs.
While they were on the way to Fayette County Jail, Powell told officers that he believed he had something else in his pockets that he did not want to have in his possession when he crossed the guard line at the jail. Once they reached the jail, they searched him and found two bags of marijuana.
"If you go into a jail and pass the guard line, it's an automatic felony no matter the amount of marijuana," according to the police spokesman. "He knew if he crossed that line, there would be felonies no matter what he had in his pockets. So he did the right thing with that."