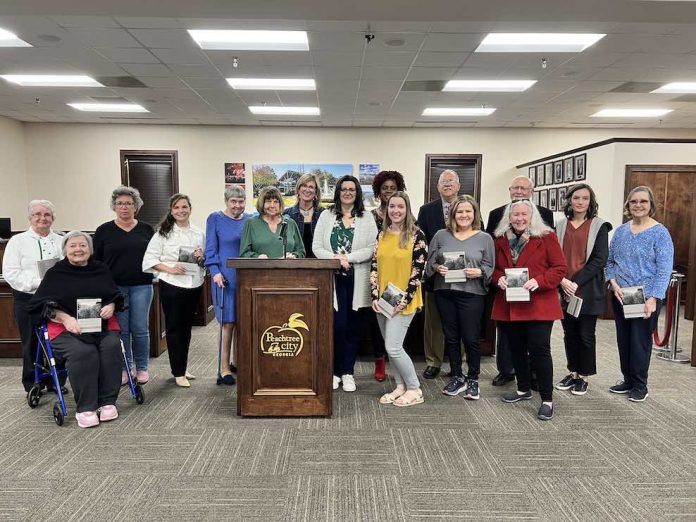 The Friends of the Peachtree City Library, in a joint project with Peachtree City Library, announce the release of their first literary journal, Hip Pocket: An Anthology of Peachtree City (Peachtree City Library, Inc., 2023).
The project grew out of a 2018 writers' workshop facilitated by Hannah Palmer, author of Flight Path: The Search for Roots Beneath the World's Busiest Airport (Hub City, 2017).
Palmer's book, part memoir and part urban history, served as inspiration for attendees to write their own stories about Peachtree City. After the workshop, the Library did an open call for submissions and ultimately, twenty-eight pieces of prose and poetry were chosen for inclusion.
"We originally intended for this to be a commemorative book for Peachtree City's 60th birthday in 2019, but it was obvious once we dug in that it just wasn't going to work. It takes an enormous amount of time to produce quality work," says Jill Prouty, director of library services for the City of Peachtree City.
A reduction in work force due to the Covid pandemic put the project further behind as Prouty had to spend more time working the public service desks, including lobby service which Peachtree City Library provided throughout 2020 and 2021.
"I was only able to work on it in short spurts," she admits. "It seemed like it would never get done."
Finally, in 2022, the Library was able to bring back additional part-time staff and begin expanding its hours again.
"The additional staff really helped take a load off," she says. "That's when the project really began to take off. Then the question was, what were we going to call it? We'd missed the 60th birthday by a long shot."
The answer was in Prairie Schooner, a literary journal out of the University of Nebraska-Lincoln, Prouty's alma mater. Prouty is a subscriber to the publication.
"I thought, What if we could fashion this anthology into a literary journal?"
Many colleges and universities publish literary journals including The Georgia Review (UGA), New South (GSU), and Arts & Letters (GCSU). But a public library?
"I did a little research and discovered that there are a handful of literary journals published by public libraries and friends organizations, but none here in Georgia. That is, until now."
The name Hip Pocket came from the first residential street in Peachtree City, named so after "Chip" Connor pulled a small surveying tool out of his hip pocket while he and "boots on the ground" founder Joel Cowan were bulldozing the path that would become the street.
"I've always loved the quirky name of that street." It also happened to be where Prouty's predecessor, the late MT Allen, lived. "It seemed like fate."
When Prouty contacted Allen's daughter, Tamara Moore, about dedicating the first issue of Hip Pocket to MT, Moore offered to contribute her own poem, a poem about her mother called "The Quiet Woman."
"Being able to honor MT in this way was the icing on the cake," Prouty says.
Plans are to publish a new volume of Hip Pocket biennially. Copies of Vol. 1 can be purchased for $10 at Amazon.com. It is also available in Kindle format for $3.99. All proceeds benefit the Friends of the Peachtree City Library.